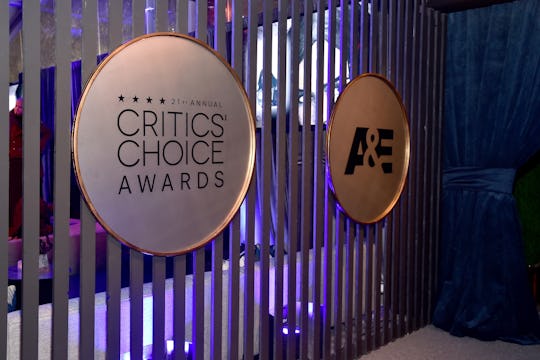 Alberto E. Rodriguez/Getty Images Entertainment/Getty Images
How To Stream The 2016 Critics' Choice Awards, So You Can Be Part Of The Action
It's the most wonderful time of the year! No, I'm not talking about the holidays, I'm talking about award season. The time has come for my favorite celebrities to don their best dresses and suits, walk every red carpet, and (hopefully) walk away with some awards. The season kicks off with the 22nd annual Critics' Choice Awards, which will take place at the Barker Hangar in Santa Monica on Sunday, Dec. 11 at 8 p.m. (ET), instead of sometime in January when the ceremony typically takes place. The awards ceremony will definitely be a star-studded event you won't want to miss. So how can you stream the 2016 Critics' Choice Awards? There's a few different ways.
Winners for the Critics' Choice Awards are chosen by the Broadcast Film Critics Association (BFCA) and the Broadcast Television Journalists Association (BTJA) and honors the best in both film and television from 2016. Leading the nominees this year for film are La La Land, Moonlight, and Arrival and leading the TV nominees (and surprising no one) is Game of Thrones and The People v. O.J. Simpson: American Crime Story. Other notable nominees for both film and TV include Sully, Fences, House of Cards, Veep, and Roots. To see who wins, check out how you can stream the 2016 Critics' Choice Awards below.
The A&E Live TV Stream
The Critics' Choice Awards will air live at 8 p.m. ET on A&E and you can watch A&E's live stream by simply going to AETV.com/VR. You can select to watch the red carpet, which airs at 7 p.m. (ET), and/or the awards show itself. Viewers can also click and drag the picture around so they can get a "virtual reality" experience of the ceremony.
The A&E App
Viewers can also download the A&E app to watch the Critics' Choice Awards Live on the Red Carpet, beginning at 7 p.m. ET, as well as the awards ceremony right after.
The Headset VR
If you have a Samsung Gear VR, you can download the VOKE VR app and select the "Critics Choice Awards Live on the Red Carpet" channel starting at 7 p.m. (ET), then switch over to the "Critics' Choice Award Live" channel at 8 p.m. to watch the ceremony. And that's all there is to it!
So really, you should have no excuse for missing out on all of this awards show fun, even if you're on the go.