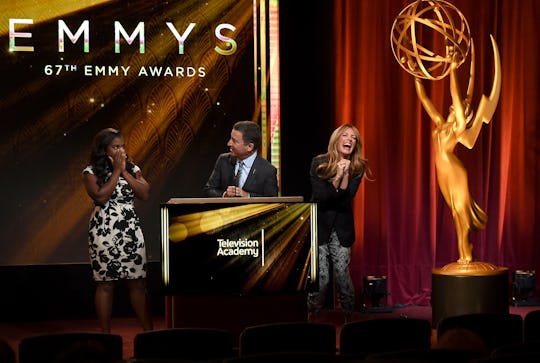 Kevin Winter/Getty Images Entertainment/Getty Images
How To Stream The 2016 Emmy Nominations, Because You Don't Want To Miss Out
It's that time of year again! The Emmy nominations are finally here and fans are eagerly awaiting to find out if their favorite shows and actors have been nominated this year. Will Game of Thrones dominate again this year? Will UnREAL get the Emmy love they deserve? Is this going to be the year of Netflix and Amazon Prime shows? Does Shondaland stand a chance this year? Everyone's making their own predictions about who will get nominated or snubbed this year but on Thursday we'll finally know for sure. Want to make sure you don't miss the live nominations ceremony this year? Here's how you can stream the Emmy nominations live.
If you don't have cable or a TV don't worry. All you'll need to watch the Emmy nomination this year is your computer and a WiFi connection. The Emmy nominations will be webcasted live on the Emmys website at 11:30 A.M. EST on July 14. The nominations will be presented by Anthony Anderson ('black-ish) and Lauren Graham (Gilmore Girls: A Year in the Life), which sounds like a dynamic duo. No doubt these two will make the nominations presentation a fun and exciting show and it'll definitely be worth watching it live (even if you have to get up a little early).
As far as nominations go, there's already some top contenders. Game of Thrones is expected to sweep the nominations (again) this year including nods for Best Drama Series and Best Actress in a Drama Series for Lena Headey and/or Sophie Turner. Mr. Robot is also being floated around as a top contender for Best Drama Series as well, which would be a big deal for USA who hasn't had a show win an Emmy since Political Animals in 2013. UnReal is also a possible contender but could also be snubbed this year if the fact that they're on Lifetime is used against them.
In the comedy category Modern Family is still set to receive multiple nominations and win Best Comedy Series, as it has for the past five years. CW is still pushing to finally get their first Emmy nod for either Gina Rodriguez (Jane the Virgin) or Rachel Bloom (Crazy Ex-Girlfriend), both of whom have received Golden Globes. It's unlikely either of these two will able to break through, but one can't help but hope it might actually happen.
To see who gets nominated and snubbed this year make sure to tune into the live webcast this Thursday, July 14 at 11:30 A.M. EST.