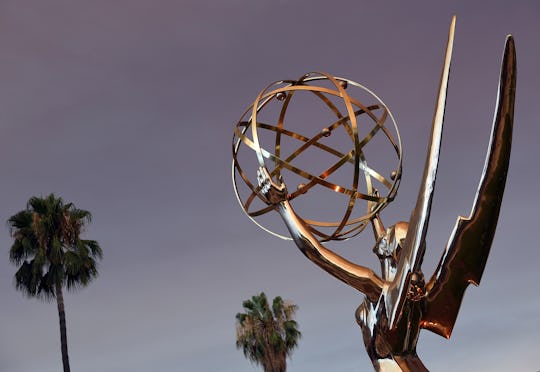 ANGELA WEISS/AFP/Getty Images
How To Stream The 2016 Emmys Red Carpet, Because It Is Easier Than You'd Think
The Emmys are once again almost upon us and with a good awards show comes a great red carpet. From seeing who shows up with who to all the amazing outfits, watching the red carpet is almost as important as watching the actual Emmys. If you don't have cable, don't fret. All you need to watch the red carpet live is a computer and good WiFi. Thanks to the Emmys you can stream the Emmys Red Carpet live on their website beginning at 5 p.m. PST on Sept. 18. It's that easy.
On the Emmys red carpet you can expect celebrities to look their absolute best, bringing out their best gowns and suits, by some famous designer that they'll tag in their Instagram photos. Some of last year's best dressed including Sarah Hyland (Modern Family), Kerry Washington (Scandal), and January Jones (Mad Men). The red carpet is almost like a runway for celebs and everyone's waiting and watching to see what celebs will show up wearing. While others stun in their couture outfits there's others that end up hounded by the Fashion Police. In the past there's definitely been many hits but also many misses on the Emmys red carpet and it'll be fun to see what everyone shows up in this year.
On Wednesday Jimmy Kimmel, this year's Emmys host, along with Emmy Awards Executive Producer, Don Mischer, and Television Academy Chairman/CEO Bruce Rosenblum, rolled out the red carpet and it's longer than it's ever been. According to Variety, the carpet is 1,325 feet this year to symbolize "the ever-expanding TV landscape." It seems the celebs will have a lot of walking to do this year but that just means more opportunities for the perfect photo op.
As always this year's Emmys will be star-studded. The entire cast of Game of Thrones will most likely be in attendance since they're nominated for multiple awards this year, including Outstanding Drama Series. Viola Davis (How to Get Away With Murder), Bryan Cranston (All The Way), Kirsten Dunst (Fargo), Aziz Ansari (Master of None), and Rami Malek (Mr. Robot) are all expected to show as well.
Although only a few can win a coveted Emmy award, anyone can win on the red carpet. Make sure to tune in this Sunday to see who's the best dressed on the Emmy red carpet this year.