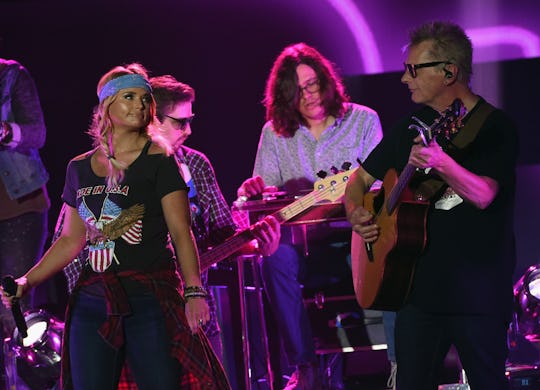 Rick Diamond/Getty Images Entertainment/Getty Images
How To Stream The 2017 CMT Music Awards
The 2017 CMT Music Awards are almost here, which means it's time to grab your cowboy boots and get ready to sing along to some of your favorite country tunes. You won't want to miss out on the amazing performances and finding out which one of your favorite artists walks away with the most awards. So, with that in mind, some of you may be interested to know how to stream the 2017 CMT Music Awards, so you don't miss out on any of the musical fun.
Unsurprisingly, the award show will be airing on CMT, but you can live stream it on CMT.com by going to "Watch Live TV." However, you will need to log in with a cable provider in order to watch, so you may want to start asking around to see whose cable subscription info you can grab before the big night.
If you don't have a cable subscription, unfortunately there's no other way to live stream the show. You can, however, watch the pre-show live on Facebook, starting at 7 p.m. on Wednesday, June 7, an hour before the award show actually begins. This is the first time the CMT Music Awards Red Carpet Special will stream live on Facebook. CMT's Cody Alan and Katie Cooke will co-host the pre-show.
Besides that, fans will probably also be able to find clips from the show online soon after they air and surely Twitter will keep everyone updated on what's going on during the awards ceremony. So even if you can't watch the show live, you can still keep up with what's going on and there will probably be a lot going on.
Charles Esten, who stars on CMT's Nashville, will host the award show for the first time, which will be fun because not only is he an actor but he's also a comedian. Many fans don't know this, but Esten actually got his start on Whose Line Is It Anyway? back in the '90s.
As far as performances go, you can expect the music will keep the crowd pumped up all night long. Blake Shelton, Thomas Rhett, Miranda Lambert, and Brett Eldredge are just some of the stars set to perform throughout the evening. The Chainsmokers and Florida Georgia Line will also be there to perform their duet "Last Day Alive," and Lady Antebellum will be up on stage with Earth, Wind & Fire.
To top off the night, Keith Urban and Carrie Underwood will also perform live together, a first at the CMT Music Awards. It's obviously going to be a fun night of music and you definitely don't want to miss it.
The 2017 CMT Music Awards airs on Wednesday, June 7 at 8 p.m. ET on CMT.