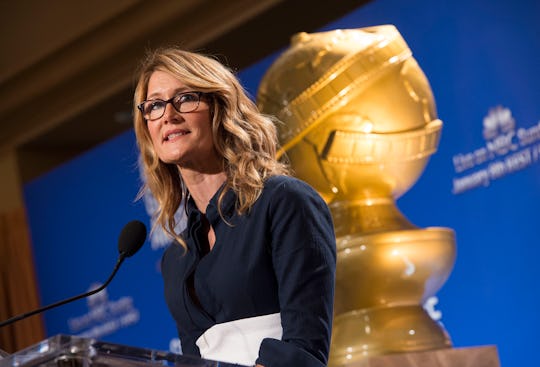 VALERIE MACON/AFP/Getty Images
Here's How To Stream The 2017 Golden Globes
Awards season is finally here! The festivities start off this year with the Golden Globes, brought to you by the Hollywood Foreign Press Association. The annual awards show applauds work in both film and television, which means all the stars will be out for this event. Hosting this year is The Tonight Show host Jimmy Fallon, and while I'll miss seeing Amy Poehler and Tina Fey kill it on stage, I know Fallon will be hilarious in his own unique way. This will be a show you definitely don't want to miss, so you may want to know how to stream the 2017 Golden Globes, in case you can't get to a TV.
Before the ceremony even begins you'll probably want to tune in early to see all the celebs walk the red carpet before awards are handed out. One of the best parts of award season is seeing what outfits our favorite celebs wear and who's the best dressed that year. This year it's very easy to see the Golden Globes red carpet arrivals because they'll be streaming live on Twitter. Beginning at 6 p.m. ET on Jan. 8, fans can go to the social media site to watch as celebrities arrive on the carpet. According to The Hollywood Reporter, the pre-show will include interviews with nominees, presenters, and other guests who will answer questions from Twitter users.
Unfortunately there will be no Twitter live-stream for the actual show itself, but that doesn't mean you won't be able to watch it nonetheless. If you have a cable subscription (or know someone who does), you can log into NBC.com and watch their live-stream beginning at 8 p.m. ET to see the show live online. And just in case you're curious about other options out there, normally the official Golden Globes site also provides its own live-stream as well. That way you can see Westworld and The Crown battle it out it in the TV categories and Moonlight and Manchester by the Sea go head-to-head in the film sections.
This year's Golden Globes ceremony is definitely one you won't want to miss. From the tributes that'll be done for the many stars we lost this past year to the jokes Fallon will definitely crack at President-elect Trump's expense, you won't want to miss a moment of all the fun.
The 74th Golden Globes will air on Sunday, Jan. 8 at 8 p.m. ET on NBC.