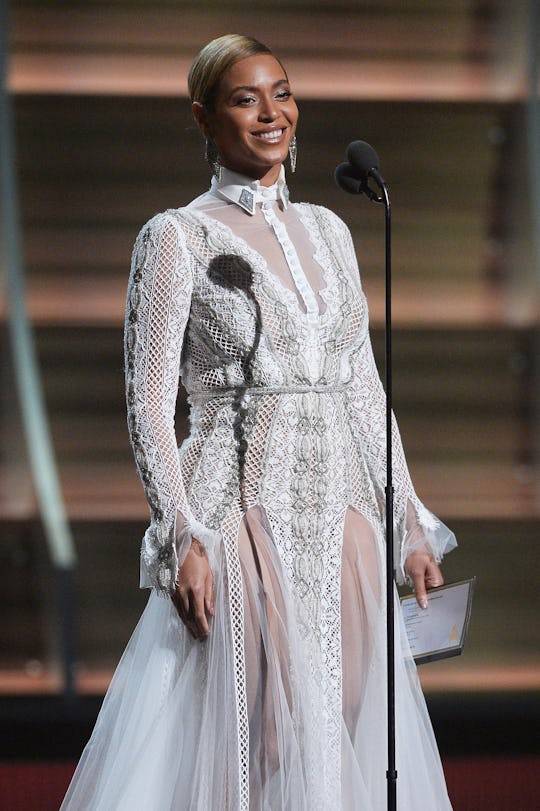 Kevork Djansezian/Getty Images Entertainment/Getty Images
Streaming The 2017 Grammy Awards Is Easy
It's almost time for music's biggest night of the year: the Grammy Awards. This year's award show is sure to be fun to watch with Beyoncé and Adele going head-to-head for Album of the Year and Beyoncé making her first public appearance since she announced she's pregnant with twins. (Oh, and did I mention she'll also be performing?!) Basically, it'll be a night of Beyoncé and you won't want to miss it. So in case you don't have access to cable, here's how to stream the 2017 Grammy Awards to help guarantee you don't miss out on a moment of all the fun.
Unlike most other TV networks, you don't need a cable subscription to watch CBS live online. Instead, CBS offers CBS All Access, their new digital platform. With an all access subscription, you not only have access to all of CBS' shows, but you can also watch the channel live online and on the app. Most importantly, you can sign up for a one week trial, which means you can stream the Grammys for free, and if you love CBS All Access enough after the fact, you can keep it or delete it when the awards show is over. It's really that easy. Plus, with the app you can easily watch it on AppleTV, Chromecast, fireTV, Roku, and so many other options. There's no reason to miss the show.
However, if you'd rather not be bothered with the process of signing up for something, you can always visit the official Grammys site, which may have a live stream going all on their own. And there's always a chance you could track down a live-stream on YouTube. But if all else fails, you can follow along with the Grammys hashtag on Twitter. Sure, it's not ideal, but it'll keep you up-to-date on everything that's happening.
The 2017 Grammys is already set up to be the greatest award show this year. A Lady Gaga and Metallica team-up is expected to take place, while Kelsea Ballerini and Lukas Graham will grace the Grammy stage for the first time. Meanwhile, John Legend will team-up with Tony Award-winner Cynthia Erivo for a tribute to all the people the music community lost in the last year. Demi Lovato, Andra Day, Tori Kelly, and Little Big Town will also come together to perform a tribute to the music of the Bee Gees as they celebrate the 40th anniversary of Saturday Night Fever.
If all of that doesn't convince you to tune in, I'm not sure what will. The Grammys are obviously going to be a fun night, filled with great music and a multitude of celebrity appearances. Make sure you don't miss out or you'll be feeling left out when it's all anyone can talk about on Monday.
The 2017 Grammy Awards air on Sunday, Feb. 12 at 8 p.m. ET on CBS.