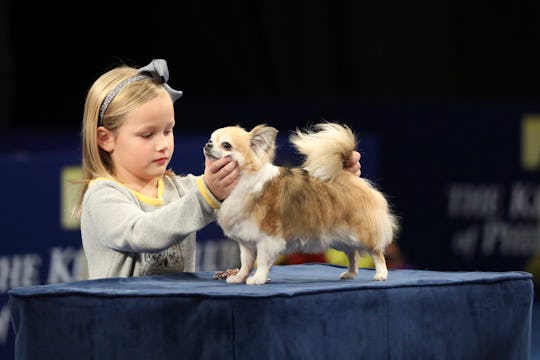 Bill McCay/NBC
Here's How To Stream The 2017 National Dog Show On Thanksgiving Day
For some people, the one thing to watch on Thanksgiving is football, but for all you dog lovers, there's only one show you'll be watching Thanksgiving Day. That's right, it's time for the 2017 National Dog Show. Each year the best of the best canines come out to show what they've got to the judges and try to be the Best in Show. You definitely won't want to miss this dog filled show, so here's how to stream the 2017 National Dog Show this Thanksgiving and revel in all the adorableness.
The National Dog Show will be airing on NBC at 12 p.m. in all time zones on Thursday, right after the Thanksgiving Day Parade. You can tune in to NBC.com and watch the live stream at that time to see the show on your computer, but you will need a cable subscription in order to watch. You can also live stream the show on the NBC Sports Live app, however, you'll also need a cable subscription for that as well.
If you're unable to live stream the show or get to a TV on Thanksgiving, the good news is that there will be an encore presentation of the National Dog Show airing on NBC on Saturday, Nov. 25 from 8 to 10 p.m. EST, so you can still see these furry friends in action, even if it is after the holiday is over.
If you've never seen the National Dog Show (which would be a tragedy), the show includes over 180 purebred dogs who compete to be the Best in Show. The winner was already crowned when the event took place last weekend in Philadelphia, Pennsylvania, but you'll have to watch to see who won since that's top secret right now. Besides, why wouldn't you want to watch all these incredible dogs strut their stuff and pull off amazing tricks?
Last year's winner was Gia, a Greyhound, and in the past terriers and hounds have almost always been the winner. However, anything could happen this year and the winner may surprise you, so you'll definitely want to watch and see which dog you want to root for.
The National Dog Show is a long held tradition, and began way back in 1879. It's one of the three major dog shows in the U.S. and is hosted by the Kennel Club of Philadelphia and presented on TV by Purina, a popular pet food brand. This year, to coincide with the show, Purina has also created the #DogThanking initiative.
The way it works is simple: every dog owner can share a picture of their dog, or dogs, on Facebook, Twitter, or Instagram along with the hashtag #DogThanking and tag @Purina. For each unique #DogThanking post submitted between Nov. 16-26, Purina will donate $1 (up to $50,000) to GreaterGood.org, to help recovery efforts in Texas, Florida, and Puerto Rico. So while you get to brag about your favorite pet, you'll also be helping a very good cause.
Celebs are already getting into it. Watch What Happens Live! host Andy Cohen, revealed to People magazine that he'll be participating, and sharing a pic of his rescue dog, Wacha. Cohen also stated that watching the National Dog Show is "a Thanksgiving tradition in my house." Though he did admit Wacha probably wouldn't be National Dog Show material. "He is a show dog for me, but I don't think it would go well," he said. "I marvel at his figure and his posture, but I don't know."
Whether or not your dog is dog show material, make sure to show them off this weekend on social media. It's for a good cause and who doesn't love to brag about their pets?
Check out Romper's new video series, Romper's Doula Diaries:
Watch full episodes of Romper's Doula Diaries on Facebook Watch.