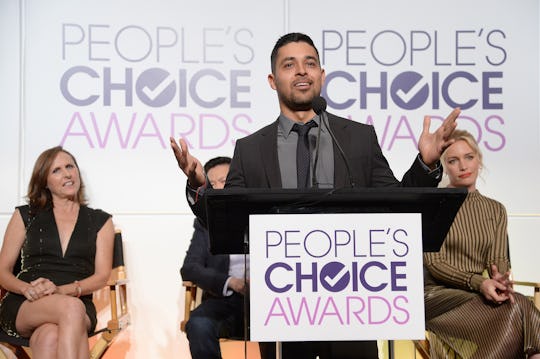 Kevork Djansezian/Getty Images Entertainment/Getty Images
Streaming The 2017 People's Choice Awards Is Easy
It's awards season, also known as the best time of the year. From the Golden Globes to the Oscars and every award show in between, fans get to watch their favorite stars snag awards for their accomplishments in music, film, and television. Still, there's only one awards show that let's the people decide the winners and that's the People's Choice Awards. This year's award ceremony is quickly approaching, so you may be wondering how to stream the 2017 People's Choice Awards. There's only two ways to watch the show.
CBS will be airing the awards ceremony and just like almost every major TV network, it now provides a live stream of their TV programming. If you have a cable provider, you can easily log in on CBS.com and click "Live TV" when the People's Choice Awards begins on Wednesday, Jan. 18 at 9 p.m. ET. If you don't have a cable provider, CBS now offers another way to tap into its live TV coverage. You can sign up for CBS All Access, its new online streaming service. With an account you can stream live TV and watch any CBS show of your choosing on demand.
Don't have CBS All Access? No problem. You can just try it out for one week for free. Just log on the same day of the People's Choice Awards and then if you're not totally in love with CBS All Access you can always cancel your subscription right after. It's that simple.
However you watch the People's Choice Awards, this is definitely not a show you'll want to miss. It was at the PCA's that Nina Dobrev and Ian Somerhalder joked about the awkwardness of dating onscreen on The Vampire Diaries, after they broke up in real life.
It was also during the PCA's that Jennifer Lawrence attempted to have a Mean Girls moment before she realized no one would appreciate getting hit with the broken shards of her award.
This year's award show will surely have just as many memorable moments. It has already been announced that Fifth Harmony will be performing together for the first time without Camila Cabello, so that'll be interesting to see. Blake Shelton is also scheduled to perform and with Joel McHale as a host you can expect a night filled with digs at celebs and President-elect Donald Trump.
All in all, it'll definitely be a fun night and you won't want to miss a moment of the fun.