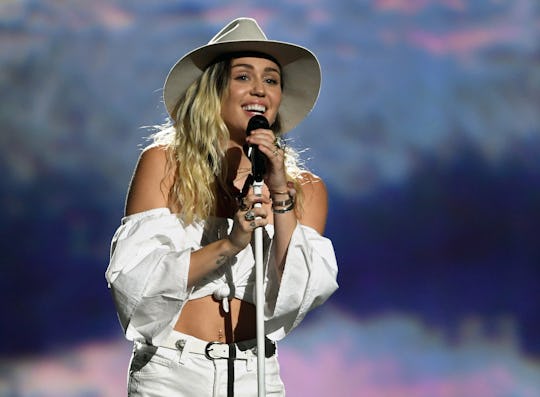 Ethan Miller/Getty Images Entertainment/Getty Images
Here's How To Stream The 2018 Billboard Music Awards
The award show season may have tapered off a little bit over these last few months, but it's coming back in full force this weekend with the 2018 Billboard Music Awards. And since you won't want to miss a minute of the must-see performances, it's important to know how to stream the 2018 Billboard Music Awards. The ceremony is set to air live on Sunday May 20 at 8 p.m. EST on NBC, so your best bet is to watch it live on TV if you can. However, if you're more inclined to stream on your computer, tablet, or smart TV, you're going to have to have some resources or login information at your disposal.
If you have cable login information, you can login on the NBC website or use the app to watch the live stream of the 2018 Billboard Music Awards, which is the best case scenario. If you don't, however, there's always Hulu Live, provided that you have a subscription to it. If you're one of many who have "cut the cord" and switched over to digital streaming internet, though, don't worry — there are several other options for streaming the show to help make your viewing experience possible.
If you have an account with SlingTV or DirecTV Now, then you'll have access to the live show on NBC or the live stream on the DirecTV Now app. YouTube also has its own live streaming service now with YouTube TV, which is $40/month. But if you already have an account or have access to your best friend's sister's boyfriend's login information, you might be in luck. And since there are a ton of musical acts set to perform and plenty of awards up for grabs with stiff competition, you're going to want to watch the 2018 Billboard Music Awards live.
With a performance by Ariana Grande opening the award show, there will also be performances by Ed Sheeran, Christina Aguilera with Demi Lovato, Zedd, and Shawn Mendes, among others, throughout the night. Apparently, since Sheeran is currently on tour, his Billboard Music Awards performance will be broadcast live from a stage in Dublin, Ireland, but it probably wouldn't be the same without some kind of appearance from the singer, especially as he's up for a couple of different awards himself. Not only is he nominated for Top Artist and Best Male Artist, but Sheeran is also up for 13 other awards that he stands to win, Basically, anything he could win, he might win, so naturally, he had to be part of the lineup of performers.
For her first time ever, Kelly Clarkson will be honoring music by way of hosting the show rather than participating as one of the nominated artists, though her past as an award-winning singer has certainly warranted her the title of host this year. And, rest assured, she will also be among the performers. As recently as 2015, she came out with the album Piece by Piece, so there's always the chance that she heads back to the studio after this to potentially be a nominee herself next year. Until then, we can enjoy the same lovable and charming singer we all fell in love with on American Idol in 2002, when all denim outfits were sought out and metallic eyeshadow was still a thing.
Because of the numerous performances that will air live at the award show, it would probably be best to watch the show itself live, if possible. Of course, that doesn't always work out and you're stuck playing catch up by watching it after the fact, but with platforms like DirecTV Now, Hulu Live, and even access to NBC's website and app, it's not impossible to stream the 2018 Billboard Music Awards live as they happen Sunday night.