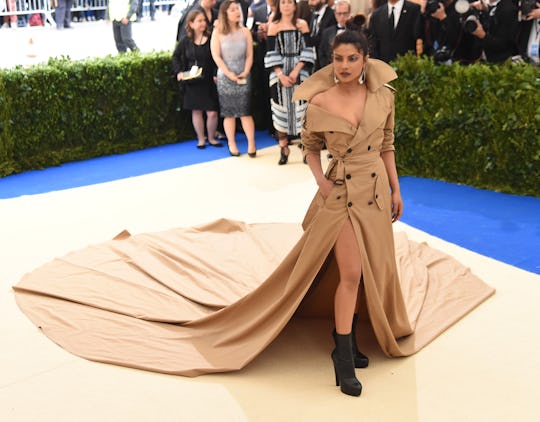 Nicholas Hunt/Getty Images Entertainment/Getty Images
Here's How To Stream The 2018 Met Gala Red Carpet
The 2018 Met Gala is here and as always your favorite celebrities will be serving fierce looks on the red carpet. Though you can't get an inside look at the Gala itself, you can watch the red carpet to see what everyone's wearing and who they arrive with at the start of the evening. That's why it's important to know how to stream the 2018 Met Gala red carpet, so you can get the first look at everyone's incredible ensembles.
The easiest way to stream the red carpet is to watch the E! News livestream, which kicks off at 6:30 p.m. EST on Monday, May 7 when E! Live From the Red Carpet: The 2018 Met Gala airs. However, you will need to log in with a cable provider to watch. If you don't have a cable provider log in, Vogue will also be live streaming the red carpet on their Instagram and Twitter pages. Besides that, you can be sure that celebs will be sharing their looks from the red carpet on social media and there will be plenty of roundups so that you can see everyone's outfits and discuss them at length.
As always, this year's Met Gala has a theme, which is Fashion and the Catholic Imagination. The Gala coincides with the launch of the Met's biggest Costume Institute collection to date, called Heavenly Bodies: Fashion and the Catholic Imagination. The collection will include couture from Dolce & Gabbana, Versace, and Schiaparelli alongside 41 pieces of ecclesiastical dress on loan from the Vatican.
Acting as honorary co-chairs for this year's Gala are Amal Clooney, Rihanna, and Donatella Versace. No doubt Versace will be wearing one of her own designs, but it'll interesting to see what Clooney and Rihanna decide to wear for the occasion. Rihanna especially is known for killing it on the Met Gala red carpet and fans expect her to blow people away again this year.
Though people definitely tune into the Gala to see the fashion, the event is also actually a fundraiser to raise money for the Met's Costume Institute. No doubt the event is bringing in an exuberant amount of money since cost of entry to this year's Gala is $30,000 apiece, according to The New York Times. And if a brand wanted to sponsor a table for their special guest celebrities, that would cost them $275,000. However, that's only if Vogue editor-in-chief Anna Wintour, who runs the event, approves you.
This year's Met Gala is extra special because it also marks the 70th anniversary of the event, so surely all the stars will be clamoring to be a part of it. However, this year a new age restriction is actually keeping some celebs out. According to The Hollywood Reporter, this year you must be 18 years old or older to attend the Gala, unless you're accompanied by a parent or guardian. That means young trendsetters like Willow Smith, Rowan Blanchard, the Stranger Things kids, and Maddie Ziegler didn't make the cut this year.
Organizers of the event claimed the change occurred because of an executive decision that stated the Gala isn't "an appropriate event for people under 18." However, since this rule has only just come about after there was no such rule for the event over the past 70 years, people are skeptical. Regardless of the reasoning behind it, the rule now stands so if you see any youngsters on the carpet this year, you can expect them to be escorted by their parents.
Other than this change, however, it seems that the Gala will pretty much run as it usually does, with Hollywood's finest making their way up the Met steps and stopping for photos so we can all stare at their outfits. Whether you're obsessed with fashion or know very little about it, the Met Gala red carpet is always a fun watch, so definitely make sure to tune in.
Check out Romper's new video series, Romper's Doula Diaries:
Watch full episodes of Romper's Doula Diaries on Facebook Watch.