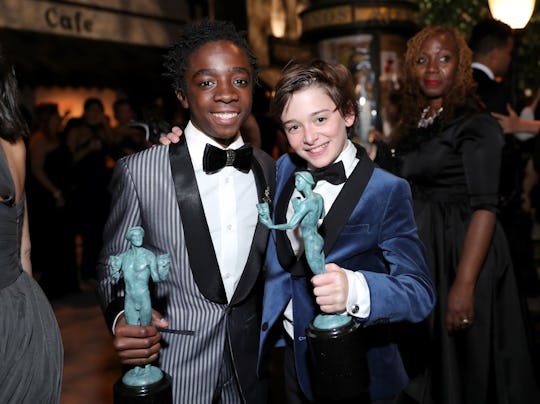 Neilson Barnard/Getty Images Entertainment/Getty Images
Here's How To Stream The 2018 SAG Awards
The 2018 Screen Actors Guild Awards are airing Sunday, Jan. 21 and it's sure to be an unforgettable night. For the first time ever, this year's ceremony will have a host. Kristen Bell was tapped for the job and she'll most likely bring the laughs and touch on some of the biggest issues impacting Hollywood right now, most notably the #MeToo movement. This year's SAG Awards is one you won't want to miss, so if you don't have a TV you may be wondering how to stream the 2018 SAG Awards.
The ceremony will be airing on both TBS and TNT starting at 8 p.m. EST, and thankfully both channels offer live streaming services. However, you will need to log in with a cable provider in order to have full access. If you don't have a cable provider log in you'll only be given 10 minutes of free access, which isn't nearly enough time to watch the whole awards ceremony. Unfortunately, that appears to be the only way to stream the SAG Awards this year.
That being said, if you're only interested in seeing who wins and hearing award speeches, video clips of all those moments will make their way to social media probably right after they happen. So just keep an eye on Facebook, Twitter, and YouTube and you'll be able to see what you're looking for.
Still, if you can watch the whole show live, you should definitely do so. The SAG Awards are always a lot of fun, partially because unlike some of the other awards shows, their is alcohol provided at the ceremony, which can lead to some interesting moments. Besides that though, the night will be filled with appearances from some of the biggest names in Hollywood right now.
Like the Golden Globes and the Critics' Choice Awards, the SAG Awards acknowledges great work in both film and television. Unsurprisingly, Stranger Things and Big Little Lies leads the pack in TV nominations this year, but they also tied with Netflix's new comedy series, GLOW, for most nods, each scoring four nominations in total. On the film side, Three Billboards Outside Ebbing, Missouri got the most nominations with four, and Lady Bird followed close behind with three.
Along with the incredible nominees, the list of presenters this year is also quite star studded. This year all 13 acting categories will be presented by women. Executive producer of the awards ceremony, Kathy Connell told The Hollywood Reporter, "This is a unifying salute to women who have been brave and speaking up." Those women presenters include Emma Stone, Halle Berry, Lupita Nyong'o, Dakota Fanning, and Kelly Marie Tran. Other presenters include Frances McDormand, Mary J. Blige, Saoirse Ronan, Laurie Metcalf, and Allison Williams.
Although the SAG Awards are uplifting women this year, don't expect to see another black out on the red carpet like with the Golden Globes. According to People, there is no plan in place for celebrities to wear all black again. The statement, which was in support of the Time's Up movement, was limited to the Golden Globes and you can expect the stars to come wearing all different colors as per usual.
That doesn't mean the movement won't still come up though. It'd be shocking if Bell doesn't mention it in her opening monologue and surely some will make note of it in their acceptance speeches. Although Hollywood has come under fire recently for its number of sexual harassment allegations, the industry has also come together to make sure the issue is addressed and action is taken. Thus, the conversation around sexual assault will most likely continue throughout this year's awards season and beyond.
You can tune in for the 2018 Screen Actors Guild Awards Sunday, Jan. 21 at 8 p.m. EST on TNT and TBS.
Check out Romper's new video series, Romper's Doula Diaries:
Watch full episodes of Romper's Doula Diaries on Facebook Watch.