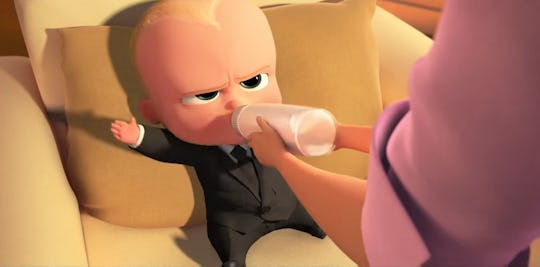 Dreamworks/YouTube
Here's How To Stream 'The Boss Baby,' So You Can See What All The Fuss Is About
One of the categories at the Academy Awards that sometimes gets overlooked is the Animated Feature Film. Typically won by a Disney movie, the award is a fun one since it's almost always made up of kids' movies. This year isn't all that different, and one of the nominees is The Boss Baby, which starred Alec Baldwin as the Boss Baby himself. If you haven't seen the film yet, here's how to stream The Boss Baby, so you can see what all the fuss is about.
Thanks to Netflix's continued partnership with Dreamworks (the studio that produced The Boss Baby), the animated film is already available to stream on Netflix. So if you have already have an account (or know someone who does) you're already good to go. If not, you unfortunately won't find anywhere else to stream The Boss Baby, at least not for free. If you're willing to pay for it, you can rent the movie from Amazon Video or iTunes for $3.99 or buy it for $14.99 so you can watch it again and again.
Additionally, if you loved The Boss Baby and can't wait to see the sequel in 2021, you'll be happy to know that Netflix and DreamWorks Animation Television are releasing a new animated series based on the film this year. Titled The Boss Baby: Back in Business, the new series will follow Boss Baby and his older brother and partner-in-crime, Tim, as they continue to navigate "the cutthroat corporate jungle gym of Baby Corp, while angling to achieve the near-impossible: the work-life balance of a modern career baby," Variety reported. An official release date hasn't been announced yet but it will be out sometime this year.
Thus, The Boss Baby fans have a ton to look forward to. However, not a lot of people are fans. When it was announced that the movie was nominated for an Oscar, many people were outraged. Some argued The LEGO Batman Movie deserved the nomination more. Others were just concerned that the Academy would nominate The Boss Baby at all.
Still, despite a lot of people's disappointment with the nomination, there were others who were happy about it. It was called "one of 2017's most underrated movies" by Polygon and someone else tweeted that the film deserved "respect." Plus, the movie was also nominated for a Golden Globe, so obviously there is something at least interesting about it.
Whether you love it or hate it, The Boss Baby is an Oscar nominee and it could very well become an Oscar winner, though that seems highly unlikely. The film is up against some very tough competition. The other nominees include Golden Globe winner Coco, which celebrates El Día de los Muertos in Mexico; The Breadwinner, which was produced by Angelina Jolie and follows a young girl in Afghanistan; Ferdinand, a movie about a bull who travels through Spain to return to his friend, Nina; and Loving Vincent, which follows a man's journey through Vincent van Gogh's village.
It would be surprising if Coco doesn't win the Academy Award, but award shows have been known to surprise viewers before. Still, it would be incredibly shocking (and upsetting for some) if The Boss Baby really does win. However, there's only one way to see who ends up winning. So make sure to tune in to the 2018 Oscars, airing on Sunday, March 4 at 8 p.m. EST on ABC so you can see which animated feature wins live. You won't want to miss it!
Check out Romper's new video series, Romper's Doula Diaries:
Watch full episodes of Romper's Doula Diaries on Facebook Watch.