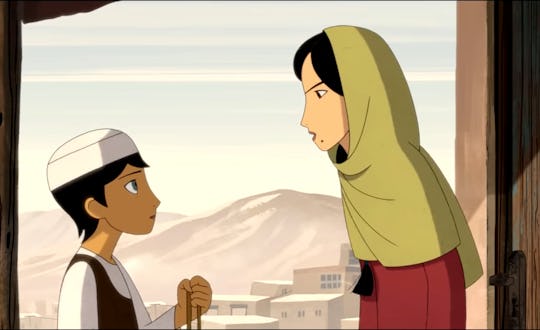 Aircraft Pictures/YouTube
How To Stream 'The Breadwinner' & See The Heartwarming Story Unfold
This year's Golden Globe nominees for Best Motion Picture - Animated are quite diverse and include Coco, Ferdinand, and The Breadwinner, which Angelina Jolie co-produced. The Breadwinner has been helmed as a modern Mulan and tells the story of Parvana, a young girl in Afghanistan who disguises herself as a boy in order to provide for her family after her father is taken by the Taliban. If you haven't seen the film, you may want to know how to stream The Breadwinner and witness the fascinating story firsthand.
Unfortunately, the movie isn't available for streaming just yet, but you can preorder it on iTunes for $14.99. You can also preorder the DVD from Amazon for $29.98. There doesn't appear to be any other way to stream the film, but it did only just come out in November of last year so that may change over time. In the mean time, you can read the book upon which the movie was based of off.
With the same title, the novel, written by Deborah Ellis, was released in 2015 and is actually the first book in a four part series. Each book follows Parvana's journey and life in Afghanistan, as well the lives of her family. Additionally, the author donates the royalties from the sales of all the book to the Canadian Women for Women in Afghanistan, and there's also a Parvana Fund that supports education projects for Afghan women and children.
The Breadwinner, both the film and book, takes place in 2001 Kabul, a city overrun by the Taliban forces. Per the Taliban's rules, 11-year-old Parvana isn't allowed to go out in public without her father, so when her father is arrested for having a foreign education, Parvana, her mother, her older sister, and her baby brother are all left without a source of income.
That's when Parvana decides to cut her hair — a scene that will give any millennial Mulan vibes — and disguise herself as a boy. Parvana's story is a Disney film, though it doesn't shy away from the real issues that have befallen women like Parvana and the misogyny that still exists today. Jolie spoke on these issues at the Animation is Film Festival last year, where The Breadwinner walked away with the grand jury prize.
"There are few countries in the world where it is harder to be a young girl, where barriers between girls and their dreams and their rights are so high and so painful to experience and observe," she said. However, Jolie also noted that the film still highlights Afghanistan's "deep humility, rich culture, and resilient warm people." She added: "It's not just an Afghan story. It's a story of our times and a story of a world in which equal rights for women remain a central burning issues of our time."
The Breadwinner isn't the only of Jolie's films to get recognition at the Golden Globes this year. Jolie also directed the film First They Killed My Father, which tells the story of Cambodian author and human rights activist Loung Ung's life as a child under the rule of the deadly Khmer Rouge. Jolie also co-wrote the screenplay with Ung and the movie was nominated for the Best Motion Picture — Foreign Language category.
First They Killed My Father was an important film for Jolie because she adopted her eldest son, Maddox, from Cambodia. Maddox, along with his younger brother, Pax, both helped work on the film. You can see the movie now on Netflix.
Make sure to tune in to the 2018 Golden Globes on Sunday, Jan. 7 at 8 p.m. EST on NBC to see if Jolie's latest projects get any award recognition. Jolie will also be there to present, so you don't want to miss it!
Check out Romper's new video series, Romper's Doula Diaries:
Watch full episodes of Romper's Doula Diaries on Facebook Watch.