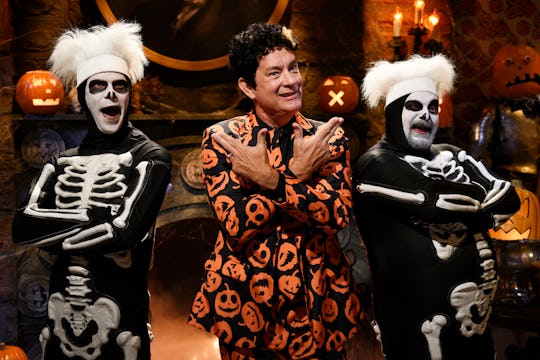 Rosalind O'Connor/NBC
Here's How To Stream 'The David S. Pumpkins Halloween Special'
Fall of 2016 was a weird time for America. I venture to say we were all feeling a certain type of way a year ago. But this was also the time that brought Tom Hanks to his ninth hosting gig on Saturday Night Live and with it, David S. Pumpkins. Now, to revive that special feeling Mr. Pumpkins brought to all of us, he's coming back for an animated special. If you're going to miss it live, here is how to stream the David S. Pumpkins Halloween Special., so you don't miss Hanks in all his animated glory. And also because sometimes we all just need a little weirdness in our lives.
In case you missed it, David S. Pumpkins was a standout sketch in a whole episode of standout sketches on Saturday Night Live hosted by Hanks. The character virtually took over the internet after the episode, becoming a veritable sensation — and no one seems to be able to figure out exactly why. The sketch is about a couple who go on a haunted elevator ride, where one of the spooks is David S. Pumpkins with an orange streak in his hair, dressed in a pumpkin suit, and flanked by dancing skeletons. His catchphrase? "I'm David Pumpkins! Any questions?"
Why this was so hilarious, and remains so hilarious, probably goes deeper into the philosophical question of what makes humans laugh and why, which I don't have the time or the college philosophy course materials to dig into. Suffice it to say that Hanks' pumpkin-suited character is coming back for a special Halloween treat on Saturday, Oct. 28 — in animated form. If you have some sort of very cool Halloween event to attend on that Saturday and will miss the special, you may be wondering how to stream it. After all, you wouldn't want to miss out on everyone's favorite surreal comedic Halloween character this years, now would you?
The David S. Pumpkins special is airing in Saturday Night Live's usual time slot of 11:30 p.m. EST. According to NBC's website, the Pumpkins animation special is basically being treated like another episode of Saturday Night Live. So while there is nowhere that says specifically how David S. Pumpkins will be available to stream, one can make a logical assumption that it will be in the same way that Saturday Night Live is available to stream. After they air on Saturday night, episodes of Saturday Night Live get uploaded to NBCs website the next day, even without a cable subscription. Alternatively, if you are an avid Hulu user like myself, you can stream the episode the next day on that platform.
Obviously, watching it the next day is perhaps not as satisfying as getting the action right away, but at least this way you'll know from friends whether or not you missed anything good. Although if I had to bet, I'd go ahead and say there's a good chance it will be just as nonsensical and entertaining as its first iteration. After all, Hanks is lending his inimitable voice to the project, including an introduction.
But Hanks is not the only one reprising his role in the skit. Mikey Day and Bobby Moynihan, who wrote it and played the dancing skeletons, will also lend their voices to the cartoon. And even more exciting, Peter Dinklage, sometimes known as Tyrion Lannister on Game of Thrones will play a part in the animation as well. So while Kate McKinnon will not be a part of the special, perhaps Dinklage will be the one to ask, "But why are you supposed to be scary?" instead. Any questions?
Watch Romper's new video series, Romper's Doula Diaries:
Check out the entire Romper's Doula Diaries series and other videos on Facebook and the Bustle app across Apple TV, Roku, and Amazon Fire TV.