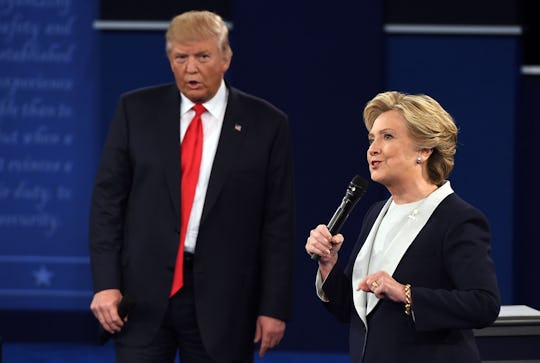 ROBYN BECK/AFP/Getty Images
How To Stream The Final Presidential Debate, Because Election Day Is Almost Here
As Election Day approaches, each presidential debate is of greater importance. And with how much has happened this election season since the second debate, we can only imagine how crucial the last debate will be. The third and final debate will take place on Wednesday, Oct. 19 at 9 p.m Eastern Time at the University of Nevada, Las Vegas. Here's how to stream the final presidential debate.
Like the two before it, NBC News, The Washington Post, Telemundo, and Fox News will be streaming the third presidential debate online.
ABC News, Fox News, C-SPAN, The New York Times, CNBC, and Telemundo will all stream the debates on Facebook Live as well. All day, ABC News will stream political commentary and videos from watch parties. Like the debates before it, Twitter will stream Bloomberg Television's coverage of the final debate, including 30 minutes of commentary before and after. And of course, the debate will air on the major television networks ABC, CBS, FOX, and NBC, as well as cable news outlets such as CNN, Fox News, C-SPAN, and MSNBC. Regal Cinemas also announced that it will be showing the final debate in more than 200 of it's theaters.
The debate will be moderated by Chris Wallace, host of Fox News Sunday. The topics that will be covered during the third debate were chosen by Wallace, and include debt, immigration, the economy, and each candidate's fitness to be President.
The format of the third debate will be identical to the first: in 90 minutes the moderator will ask a question about one of the six topics, and each candidate will be given two minutes to respond.
Republican presidential nominee Donald Trump expressed his frustration over the debates on Wednesday, claiming they were "rigged." Trump said at a rally in Florida, according to the Huffington Post:
You know that so-called Commission on Presidential Debates? The head guy used to work for Bill Clinton. Ay yi yi, what a rigged deal this is. I have no respect for that group, by the way. I have none. It sounds good, presidential commission. Give me a break. That's why I was so happy what we did to annihilate the enemy the other day, so happy because we're dealing against a very dishonest system.
Some feel that there is no point in having a third debate, and doing so will only allow Trump to further "drag down one of our most honored processes," according to the Washington Post. However, an analysis of undecided voters showed that the first presidential debate did impact most of their opinions of the candidates. It's Trump's and Clinton's last chance to sway voters, so expect this debate to be big.