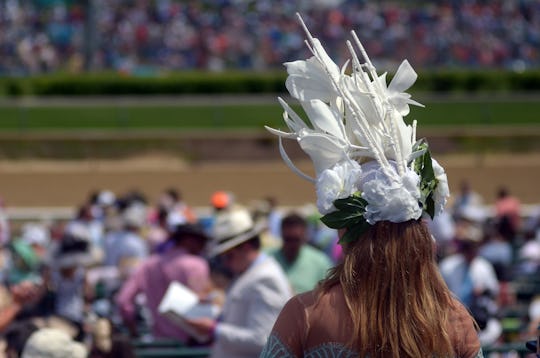 Dylan Buell/Getty Images Sport/Getty Images
How To Stream The Kentucky Derby, Because The Hats Will Be Wild
It's been five long years since U.S.-based Anglophiles got up at the crack of dawn to watch the wedding of Will and Kate, aka the Duke and Duchess of Cambridge, and there are, unfortunately, no new royal weddings on the horizon. Luckily for those who are in it for the fascinators (also the title of my upcoming album), America has another option for hat gazing, so here's how to stream the Kentucky Derby on May 7.
The event will air live from 4 to 7 p.m. Eastern Time on NBC, for those who still watch TV the old-fashioned way. It can also be streamed on NBC Sports Live Extra. The Kentucky Derby has a fascinating (no pun intended) party planning guide that helpfully outlines three distinctly different types of viewing parties one can host, no matter their budget. Those with cash to burn will be disappointed to learn that caterers, bartenders, and DJs should have been contacted a month ago, but for fans looking to host a mid-range garden party, all you need are some mason jars, painted tin cans, and wisteria blossoms. Anyone who's not independently wealthy is encouraged to cut costs with tips like "do your own cooking" and "make your own decorations." Brilliant! But, as the guide says, "it all comes down to the hat." Indeed.
This year, it's actually about a little more than the hat; it's also about the brooch. Host Johnny Weir will be wearing a horse-shaped brooch that's – wait for it – powered by tweets. Fans can tweet using the hashtag #WatchMeNeighNeigh to make the horse gallop and light up live on TV. NBC will also broadcast a red carpet pre show live on Facebook, featuring Weir, fellow retired figure skater-turned fashion reporter Tara Lipinski, and auto racing analyst Rutledge Wood, which seems like an odd choice, but good for him.
For those who'd prefer to gawk at flamboyant hats without adding their tacit approval to what they view as the enslavement and abuse of animals, there are options! As long as you don't mind looking at hats that are sooo 2015 (or clicking through slideshows), there are plenty of roundups of the best of the best out there. Glamour has a comprehensive one, TIME has an insane collection that, if not exactly high-fashion, is at least entertaining, and Forbes has a gallery that runs the gamut from understated to unbelievable. You could even shop around for one of your own — I guarantee this hat site will shock customers with both how low and how high some of their prices are. What are they based on? Who knows.
Unfortunately, the ghost of Joan Rivers won't be covering the Kentucky Derby red carpet, but that doesn't mean we can't all channel her at home while watching Johnny and the gang on NBC and Facebook, preferably with a mint julep in hand.