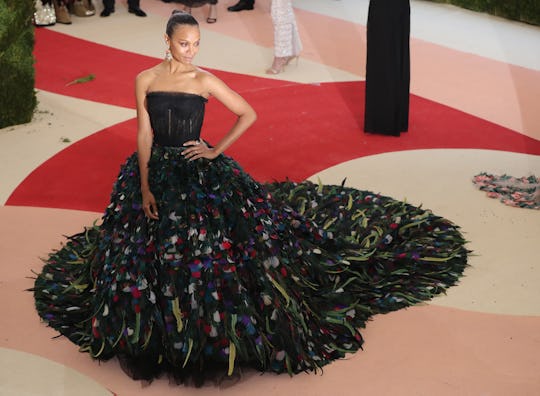 Neilson Barnard/Getty Images Entertainment/Getty Images
Stream The Met Gala & See All The Glamour For Yourself
Once a year, fashion lovers can forget their troubles and marvel at a whole bunch of celebrities wearing amazing outfits, thanks to the annual Met Gala. But if it seems like your invitation from Anna Wintour got lost in the mail, take heart — you can still stream the Met Gala red carpet, and see all the looks in real time. After all, you've got to have a hot take on whatever your favorite star decides to wear, especially this year.
The 2017 "Oscars of the East Coast" (more formally known as the Metropolitan Museum of Art Costume Institute Gala) will take place on Monday, May 1. Wintour, Katy Perry, and Pharrell Williams are co-chairing, and the Met Gala will honor Rei Kawakubo, the super-subversive Comme Des Garçons designer. A-listers will gather for the noble purpose of raising money for the Costume Institute and, let's be real, the less noble purpose of one-upping one another when it comes to eye-catching outfits.
There will likely be a few places to catch the red carpet. Vogue sponsors the event, so it will almost certainly have something on its social media channels. Last year, The New York Times Styles live-streamed the Met Gala on its Facebook page, and it seems likely that will happen again. Keep your eyes peeled on the page for official announcements in the coming days. And E! News also hopped on the gala coverage last year, and will probably be a promising place to go for it again next Monday.
Of course, the only part available for streaming is the red carpet. Social media is generally banned from inside the event, in order for it to maintain its oh-so-exclusive appeal.
But the red carpet is sure to be extra-interesting this year, even though word on the street is that Met Gala queen Beyoncé will not be attending (noooooo!). The suggested theme is "avant-garde," in keeping with the Comme des Garçons celebration, and stars will likely go all out in their outfits. Kawakubo is the only designer besides Yves Saint Laurent to be honored by the Costume Institute while alive, and she's famous for strange, fascinating, abstract designs that distort the body. In a recent interview with the reclusive designer, Vogue editor Lynn Yaeger called Kawakubo's work "closer to performance art than fashion show."
Watching celebrities accustomed to wearing gorgeous, flattering gowns navigate this year's theme is sure to provide plenty of buzz-worthy outfits. Luckily, you can stream the whole red carpet without having to pay tens of thousands of dollars for a ticket.