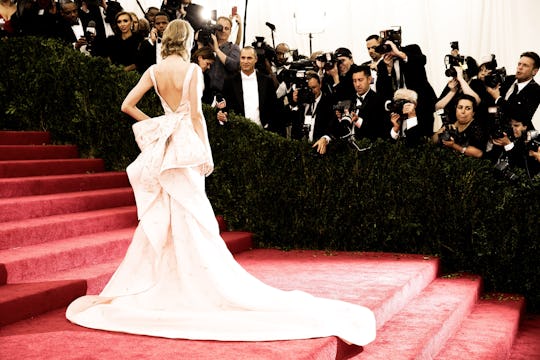 Neilson Barnard/Getty Images Entertainment/Getty Images
How To Stream The Met Gala If You Don't Have A Television
The Super Bowl of fashion is happening tonight, May 2, and for the first time ever you'll be able to experience all the glitz and glamour of the A-list celebrity arrivals live as it happens. The Met Gala is one of the most exciting nights of the year, typically filled with fashion and fundraising for the Museum of Art's Costume Institute in New York City. Instead of reliving the event the next morning through tweets and memes, this year you'll be able to experience the event vicariously through your television — E! News will broadcast live coverage from the event's red carpet starting at 7 p.m. ET. Don't worry if you're sans television at the moment: figuring out how to stream the Met Gala if you don't have a television is actually super easy. Get your snacks prepped, wine poured, and your WiFi fired up, because there are a couple of options for live-streaming the star-studded evening.
To start, E! News will be covering the Met Gala red carpet in real time on TV or on their live stream on Eonline.com in the E! Now section, but of course the caveat is cable information is required to stream the event from the comfort of your lap. If you're dying to see Giuliana Rancic ask celebs "who" they are wearing, you might have to ask your neighbor "who" their cable provider is and nicely mooch their password off them. If you're keen to stick with E!'s coverage of the event, there is also the option to watch the coverage from the recently launched "Live From E!" Facebook page.
If all that doesn't work, you can also simply download the Twitter's Periscope app to your internet-friendly device. Live-stream footage was available through the Met's Twitter page and Periscope account last year, so it's expected to be the same this year. Instagram is also rumored to have a Met Ball dedicated channel. Racked reports the channel will feature user-submitted videos for an alternative viewing option.
Another option for you if you're feeling extra loyal to Anna Wintour's fashion bible is Vogue's brand new app which promises real-time, behind-the-scenes coverage. It's not exactly clear whether the "exclusive" coverage will be video, photos, interviews, or all of the above.
The options for live-streaming the exclusive event are bountiful this year, so don't delay, because you don't want to miss Beyoncé, Kendall Jenner, or Taylor Swift delivering on this year's tech-themed red carpet. If prior years' show-stopping fashion numbers are any indication for 2016, then tonight is definitely a can't-miss affair.