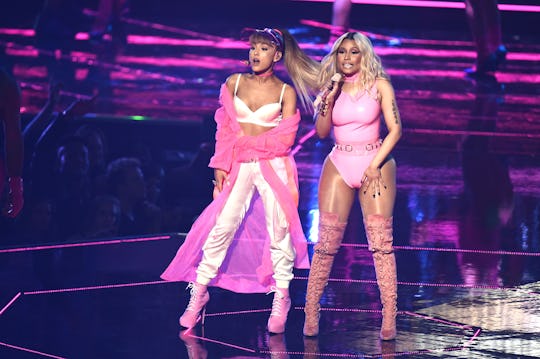 Michael Loccisano/Getty Images Entertainment/Getty Images
Here's How You Can Stream The 2018 MTV Video Music Awards
The 2018 MTV Video Music Awards (VMAs) are coming to you live on August 20 from New York City's Radio City Music Hall, and it looks like the show is going to be epic. The VMAs have delivered some of the most memorable television moments in history, including Kanye's "Ima let you finish" moment with Taylor Swift and the infamous Britney Spears/Madonna kiss. So, you might want to know how to stream the MTV Video Music Awards so you can watch all the action and excitement as it unfolds.
The easiest way to watch the 2018 VMAs will be to tune in to your local MTV station and catch the broadcast live as it begins at 8 p.m. ET on Monday, August 20. But if you aren't in front of your TV, you can live-stream the show with your TV provider login through MTV Live or through the MTV app for mobile devices. You can also stream the show live if you are a DIRECTV Now subscriber.
As usual, MTV is pulling out all the stops for the VMAs and this year's lineup of celebrities and performances is one you may not want to miss. Cardi B is scheduled to perform for the first time since giving birth to her daughter Kulture two months ago, People reports, and she'll be setting the tone as the show's opening act. The rapper and new mom also has racked up the most nominations of the night, with 12 in total, including Artist of the Year and Video of the Year.
But Cardi B isn't the only female rapper set to perform at the VMAs. After dropping her latest album Queen just weeks ago, MTV reported that Nicki Minaj will be electrifying the VMA audience with a remote performance from a secret location in New York City. Whether she performs from the top of the Empire State Building or alongside Lady Liberty, you can count on this New York City native to give a stellar performance.
Jennifer Lopez will be receiving the Michael Jackson Video Vanguard Award this year, and according to MTV, the award "honors an artist's remarkable body of work." For Lopez that means almost 20 years of hit songs, videos, and performances. Her very first single, "If You Had My Love" topped the charts in 1999, and since then she's put out hits like "Waiting For Tonight" and "Love Don't Cost A Thing." To celebrate her award, Lopez will be taking to the stage, and hopefully perform some of her greatest hits.
MTV reported that the other notable performers for the night will include Post Malone, Travis Scott, and Shawn Mendes. Logic and Ryan Tedder will also perform, along with Ariana Grande who will take the stage with her new hit single "God is a Woman." The pre-show will also feature some amazing performances, most notably one from the iconic '90s boy band, The Backstreet Boys.
Along with an all-star list of nominees including The Carters, Childish Gambino, Drake, and Bruno Mars, the VMAs also include a great lineup of presenters this year. The show will feature celebrity presenters including Stranger Things star Millie Bobby Brown, along with Kevin Hart and Tiffany Haddish, who will be promoting their upcoming comedy film, Night School. Liam Payne, Blake Lively, Keegan-Michael Key, and Olivia Munn will be handing out awards as well, along with musical artists like Lenny Kravitz, Bebe Rexha, and Dj Khaled.
MTV is promising to bring you an incredible show this year, and if you don't want to miss out on any of the action, make sure to have your cable provider login info handy if you're planning on streaming through MTV's web browser or app. The 2018 MTV Video Music Awards will air live on Monday, August 20 at 8 p.m. ET, with the pre-show beginning an hour earlier at 7 p.m. ET.