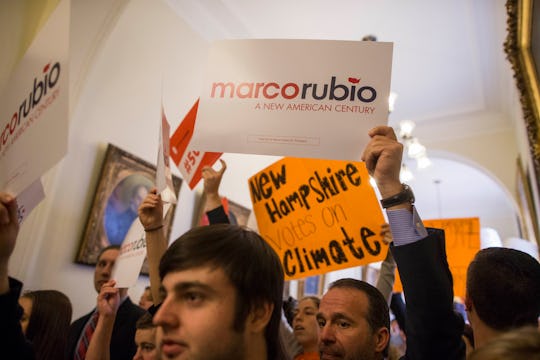 Scott Eisen/Getty Images)
How To Stream The New Hampshire Primary If You Don't Have A TV, Because You Won't Want To Miss It
Now that the Iowa Caucuses are over, the biggest part of primary season is just beginning. What's next? Candidates are headed east to win over residents of the Granite State. Here's how to stream the New Hampshire primary, if you don't have a television.
CNN's coverage of the New Hampshire primary will air from 7 p.m. ET (4 p.m. PT) through the 3 a.m. ET (12 a.m. PT) hour on Feb. 9. You'll be able to stream the coverage online or download the CNN app to watch. MSNBC will also likely cover the primary, so you can stream MSNBC online or download the MSNBC app as well.
If you can't wait for the primary, there are two debates to check out before Tuesday. The Democratic debate will air at 9 p.m. ET on Thursday Feb. 4 on MSNBC. The debate pits former Secretary of State Hillary Clinton against Vermont Sen. Bernie Sanders at the University of New Hampshire in Durham. NBC News' Chuck Todd and MSNBC's Rachel Maddow are the moderators. If you want to watch on the go, download the MSNBC app for iOS or Android.
Yet another Republican debate will also air Feb. 6 at 8 p.m. ET on ABC. Moderators include ABC World News Tonight anchor David Muir and Chief Global Affairs Correspondent Martha Raddatz. To see the debate on the go, download the WATCH ABC app or check out the ABC live stream (be sure to find out in advance if viewers in your area can watch).
Winning the New Hampshire primary is critical for presidential candidates, particularly those who didn't fare well in Iowa. Donald Trump appears to be leading in the polls for the moment, but Texas Sen. Ted Cruz and Florida Sen. Marco Rubio may be able to capitalize on their success in Iowa to challenge Trump. Several other Republican candidates are focusing their efforts on New Hampshire now, after dismal showings in the Hawkeye state, including struggling former Florida Gov. Jeb Bush and New Jersey Gov. Chris Christie. Vermont Sen. Bernie Sanders is likely to perform well on the Democratic side, but former Secretary of State Hillary Clinton may be able to pull off victory in the state similar to the one she had against Barack Obama in 2008.
Candidates kicked off primary season with the Iowa caucuses on Monday. Despite an incredibly close contest, Clinton walked away with the Democratic win in Iowa, and Cruz beat out Trump for the Republican win. The results in Iowa are not always predictive of performance of New Hampshire though, so both members of both parties will be watching closely to see who takes the lead — as should anyone with a vested interest in finding out who will be the next Commander in Chief.