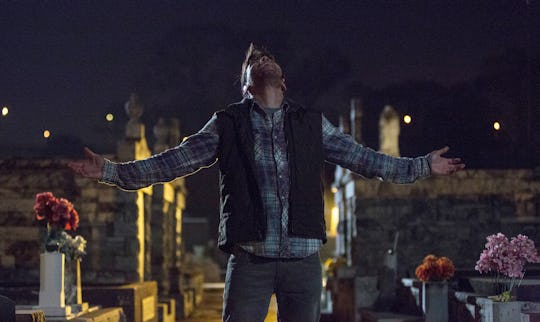 Courtesy of FOX
How To Stream 'The Passion,' Because You Know You Want To
It's that time of year again. You know, the one when grocery stores across America fill their shelves with eggs and honey-glazed hams, and drugstores across the U.S. smell like Willy Wonka's infamous candy factory. Why? Well, in short, Easter. But this year a new tradition may be in the works: a live, and religious-themed, TV musical. That's right, before you start stuffing your kiddos baskets, head out to church (or not to church at all), or slip into a sugar-induced coma, you may want to turn on your TV because The Passion, Fox's modern-day take on Jesus' last days, airs Sunday, March 20. But how can one watch The Passion? How do you stream The Passion, the musical?
Well, the good news is you can watch Fox's The Passion on your local Fox station. But if you do not have cable, rabbit ears, or — well — a TV, don't fret: according to Fox, The Passion can be streamed on Fox.com or the Fox Now mobile app. However, Fox will only support streaming in select markets. The Passion will also be available, On Demand on Fox.com and all Fox Now apps starting Monday, March 21.
The Passion was written by Peter Barsocchini (High School Musical, High School Musical 2, and High School Musical 3) and, according to IMDb, it will follow the last days and hours of Christ's life:
Jesus of Nazareth as he presides over the last supper, is betrayed by Judas, put on trial by Pontius Pilate, convicted, crucified and resurrected.
However, instead of being set in Jeruselum, The Passion takes this modern-day retelling to the Deep South — New Orleans, to be exact. (In fact, not only will the event be filmed in New Orleans, hundreds are slated to carry a 20-foot illuminated cross from the Superdome to a stage alongside of the Mississippi, according to The New York Times.)
The live event will be narrated and hosted by Tyler Perry, Jencarlos Canela (of Telenovela) will play Jesus Christ, Chris Daughtry (best known from his band, Absent Element, and American Idol) will take on the role of Judas, British singer-songwriter Seal will be Pontius Pilate, and country superstar Trisha Yearwood will be Mary.
The Passion will be broadcast live at 8 p.m. on Palm Sunday, though the event's pre-show will begin at 6:30 p.m.