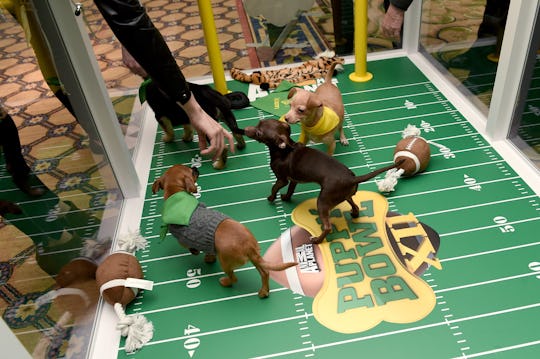 Amanda Edwards/Getty Images for Discovery Communications
How to Stream The Puppy Bowl, Because Face It, It's So Much Better Than The Super Bowl
What's way more important than the Super Bowl? Well, that's easy — the Puppy Bowl, of course. Yes, I'm talking about that annual cuteness-overload Animal Planet assaults our senses with in the best way possible once a year. And yes, it happens that same day you could be watching a bunch of men in tights run around and tackle each other. Well, that might be appealing in its own right, but if you prefer entertainment of the four-legged, furry, and adorable variety, read on to see how and whether you can live stream the Puppy Bowl come Super Bowl Sunday or catch it elsewhere... while everyone else is pretending they understand Football.
This year, Animal Planet is hosting its 12th annual Puppy Bowl on Sunday, Feb. 7, and kickoff — yes, kickoff — is at 3 p.m. ET. This year, Team Ruff, or the green team, will take on Team Fluff, the yellow team, during the 2016 adoption extravaganza. This time around, the TV network worked with 44 different animal shelters across the country to fill the rosters for #teamruff and #teamfluff. There's even a starting lineup for the Puppy Bowl, in case you've gotten sick of hearing about Panthers quarterback Cam Newton, and would rather know if Team Fluff features a labrador or a husky.
When you do finally sit down to get your puppy-fix come Sunday, make sure you know where to tune in so you don't miss the once-a-year cutefest. Unfortunately, the Puppy Bowl isn't available for live-streaming online, but there are other ways to enjoy.
If it's couch time you are looking for, plop down, and switch the channel from the Big Game and tune into Animal Planet on Sunday at 3 p.m. ET. If the suspense of waiting to watch a pile puppies run around gets to you, don't worry, you can always check out Animal Planet's puppy cam.
Oh, and did I mention the network is offering its puppy experience in virtual reality, as well? Yes, Animal Planet has released four videos through the Discovery VR website and app. To get a close-up experience with the furry athletes, viewers can pair the videos with virtual reality goggles.
What's neat about the event is its not just a chance to gawk at the cuteness of puppies and mourn the fact we don't have room for another dog — the Puppy Bowl is a successful adoption event, raising awareness for the shelters it partners with, and holding adoption events all over the country. So, you can feel good about tuning in to see the four-legged all-stars make their debuts on a national stage on Sunday. In the meantime, feel free to binge-watch as many cute-puppy videos on YouTube as you'd like. You deserve it.