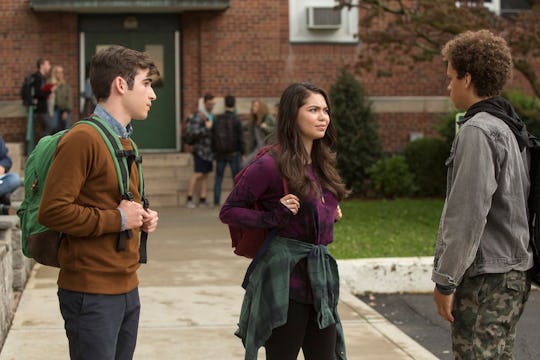 Eric Liebowitz/NBC
Here's How To Stream The 'Rise' Soundtrack, So You Can Listen To Your Favorite Tunes Again & Again
NBC's hugely anticipated new musical drama premieres on March 13 and from the very first episode, viewers will likely want to know how to stream the Rise soundtrack. Musical theater fans will dig that the show centers around a high school theater department which is fervently mounting a production of Spring Awakening. So we can expect lots of fresh covers from that musical and a few are already available for streaming. You can check out a track called "Spring Awakening Montage" and a cast version of "I Believe" on Spotify and iTunes.
NBC released five tracks on March 9 ahead of the premiere, and for the rest of the season, Atlantic Records will continue to release each episode's soundtrack on the Friday before the episodes air. (Rise airs on Tuesdays, overtaking the coveted This Is Us time slot.) Given the show's musical drama format, we can also expect non-musical theater songs, in addition to the songs from Spring Awakening, à la Glee.
In the release of tracks from the first episode, there are covers of Macklemore's "Glorious" and Pearl Jam's "Just Breathe." (The fifth track is a freestyle rap from the football-player-turned-hidden-musical-theater-talent played by Damon J. Gillespie. The track is appropriately titled "Football Freestyle.") For now, the tracks are being released as singles, as opposed to volumes organized by episode or by season, so the easiest way to see all of them displayed at once on Spotify and iTunes is to search by "Rise cast."
You can also find music videos and lyric videos of the tracks on Atlantic Records' YouTube channel, which has its own Rise playlist. They've already released a music video for "Glorious," and you can find lyric videos for the other tracks. Rise also has its own YouTube channel but as of right now, it hosts mostly sneak peeks and promo clips. Apart from the same "Glorious" music video, it doesn't have any other tracks up right now, though they may be added after episodes air.
Rise tells the story of a shabby drama department in a working class Pennsylvania town. You know the type: all the school's public funding gets funneled into their sports program so the theater department is left with crappy sets, old, tired musicals with cheaply attainable rights. When the show first opens, the planned high school musical is Grease and the same showy but reliable singers getting cast as the leads every year.
Enter teacher Lou Mazzuchelli, who in a fit of inspiration, decides to co-produce the next musical alongside standing drama teacher Tracey Wolfe, played by Rosie Perez. He convinces the administration to switch from a played out, traditional musical like Grease to a fresh alt-rock show like Spring Awakening, and goes on a quest to find unexpected talents roaming the halls.
Here's where it feels a lot like Glee: he finds a budding rapper in football star Robbie Thorne, but has to convince him to join the theater department. (He also has to convince Tracey to cast a sports person.) Then, "Mr. Mazzu," played by How I Met Your Mother's Josh Radnor, finds a beautiful soul singer in Lilette Suarez, a so-called "girl from the wrong side of the tracks" who's played by Moana's Auli'i Cravalho. There's also a trans character played by Ellie Desautels, and Stranger Things' Shannon Purser plays one of the drama kids, too.
The cast is stellar, but so far, the pop songs are sounding stronger than the actual musical theater songs. Stay tuned to find out if the show can find its footing across all genres.
Check out Romper's new video series, Romper's Doula Diaries:
Watch full episodes of Romper's Doula Diaries on Facebook Watch.