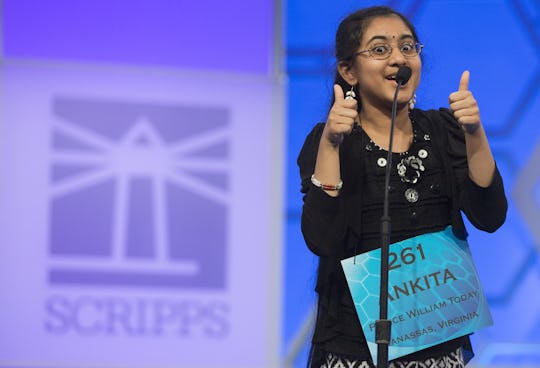 SAUL LOEB/AFP/Getty Images
How To Stream The Scripps Spelling Bee & Be Totally Blown Away
The Scripps Spelling Bee final round just two days away, which means that 280 hopefuls will compete for the title of Scripps National Spelling Bee champion in just 48 hours' time. Part one of the two-part final round at 10 am E.T. on Thursday, May 26, while part two will air at 8 p.m. And if you're curious how to stream the Scripps Spelling Bee, producers of the show have made it pretty damn simple to tune in so you don't miss a beat — or in this case, a word.
My excitement for the show is two-fold. For starters, there are few things I love more than watching kids younger than I am outsmart me and display a stronger command on language than I'll ever, ever have. (Though TBH, I already have a younger sister so I am well-versed in how this feels.) And second, it's pretty badass to see so many young, brilliant kids storm the stage and master some of the most confusing words in language. On Wednesday, May 25, contestants will compete during three preliminary rounds in National Harbor, Maryland at the Maryland Ballroom at the Gaylord National Resort and Convention Center. After the finalists are announced Wednesday night on ESPN, they'll compete on Thursday to take home the gold.
If you're without cable or in the mood to watch at work, you can livestream the Scripps Spelling Bee finals on Thursday via WatchESPN. You can also tune into spellingbee.com for a livestream of the final rounds on Scripps' spelling bee website. According to the site, the champion of the 2016 Spelling Bee will take home a $40,000 cash prize from Scripps and an engraved Scripps National Spelling Bee trophy. They'll also win a $2,500 U.S. savings bond from Merriam-Webster as well as a complete reference library. Encyclopedia Britannica is offering the winner of this year's Bee $400 worth of reference works, including a 1768 Encyclopedia Britannica Replica Set Deluxe Edition and a three-year membership to Britannica Online Premium. Last, but certainly not least, the 2016 champ will head to New York City following their win and appear live on LIVE With Kelly.
This year, 144 boys and 141 girls will compete for the title, with 190 children coming from public schools, 52 from private schools, 17 from parochial, three from charter schools, one from a virtual school, and 21 competitors from homeschooling. Their ages range from 6 years old (there's a lone 6 year old competing) to 15 (and there are only two 15 year olds) — the highest majority of the spellers are 13 years old. And if you're really in the mood to be schooled, you can take Scripps' sample spelling test. But don't worry, you don't have to tell anyone your score. Thankfully.