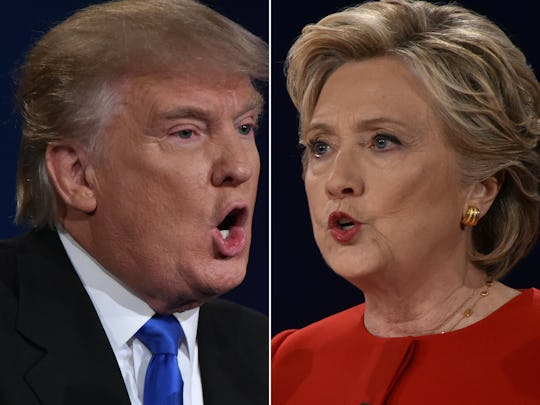 PAUL J. RICHARDS/AFP/Getty Images
How To Stream The Second Presidential Debate, Because It's Too Important Not To Watch
The first presidential debate between Republican presidential nominee Donald Trump and Democratic presidential nominee Hillary Clinton has come and gone, and it was such a high-stakes night that it was hard to turn away from. Opinions about the candidates' performances were mixed, but now they have the opportunity to once again attempt to win over voters, because the second presidential debate will be coming up on Sunday. It'll be broadcast without commercials on pretty much every major news station, but here's how to stream the second presidential debate for anyone who would rather watch on their computers or devices.
Just like the first debate, the event will be broadcast online in multiple locations, and it's expected that most of the same sites streaming the first debate will continue to do so for the second and third. According to the Commission on Presidential Debates, those not watching on television can find live streams on ABC News, BuzzFeed News, CBS News, CNN, C-SPAN, The Daily Caller, Facebook, Fox News, Hulu, Huffington Post, NBC, PBS, Politico, Telemundo, The Wall Street Journal, Twitter, Univision, Yahoo, and YouTube (though that's not an exhaustive list). Facebook will also be using Facebook Live video to interact with users in addition to showing the debate itself, and Snapchat will be covering the event with a collection of Snapchat stories.
Unlike the first debate however, Sunday's debate will be a town-hall style event, and will feature questions that the American public was able to vote on ahead of time. According to The Atlantic, voters can actually send their questions in via PresidentialOpenQuestions.com, and then vote for their favorites. The top 30 questions will then be considered by CNN and ABC for the final list of questions that will actually be asked.
While the popularity of a question won't guarantee it will be asked (especially if it's, you know, not a good question), The Atlantic notes that, when the voter-submitted question format was used earlier this year during a U.S. Senate primary in Florida, the questions tended to be solid, focusing more heavily on direct policy issues than anything else. Overall, activist Grover Norquist told The Atlantic the voter-submitted questions strategy was a good move, given that "there is a mutual frustration with presidential debate questions dominated by a handful of television personalities rather than average voters."
According to USA Today, the second debate will be held in St. Louis, Missouri, at Washington University. The two moderators — Anderson Cooper and Martha Raddatz — haven't spoken at length about what viewers can expect, though according to The Washington Post, they have each at least hinted that they don't plan on being overly involved or direct with the candidates. Speaking to former talk show host Phil Donahue Tuesday (who once moderated a debate between Bill Clinton and Jerry Brown), Cooper said he admired the way Donahue largely kept quiet. He then acknowledged some of the criticism Lester Holt received after the first debate, and said he didn't agree with it:
Lester Holt has been — some have criticized him for not being enough of a traffic cop, for not stopping Donald Trump from interrupting. I think there is a value in stepping back. You don't want it to be about you. You want it to be a discussion about the two, and if one is interrupting the other, that tells the audience something, and people can make up their own minds about what exactly that means. I'm not sure it's always good for the moderator to be stepping in and trying to direct and keep everything to time.
Of course, no one will really know exactly what to expect from the debate until it happens on Sunday, but it definitely sounds like it will be different from the first. And since both Clinton and Trump have already attempted to throw down the debate gauntlet once already, you know that both of them will be even more prepared to bring their A games now that they've had some practice going head-to-head.
Voting in the presidential election is always important, but this election is especially crucial because of how much the two candidates differ. Bustle and Romper have partnered with Rock The Vote to make sure that women's voices are heard. To register to vote, use the widget below: