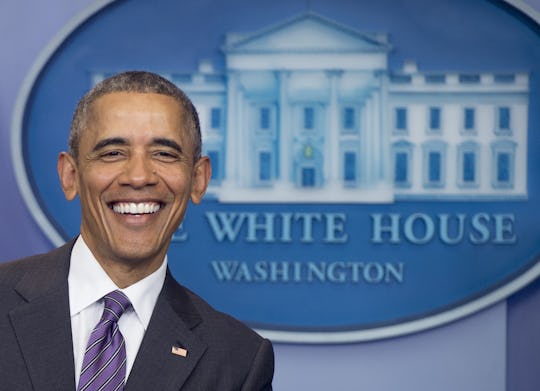 SAUL LOEB/AFP/Getty Images
How To Stream The White House Correspondents' Dinner, Because It's Obama's Last One
Ah, the White House Correspondents' Dinner. It's a night for the president, the press, and celebrities to hobnob and laugh about the previous year on national television — but this year, it's more than that. This is President Obama's last chance to take the stage and crack jokes about Republican frontrunner Donald Trump (who the president has definitely not spared in past years) so it has to be good this year. Knowing that, here's some tidbits on how to stream the White House Correspondents' Dinner so you don't miss out on the fun.
The White House hasn't mentioned whether the event will be live-streamed on its website, and neither has the Correspondents' Association, which means that — until they announce otherwise — you might want to have a few viable alternatives lined up. (Although I'd be very surprised if they didn't stream it, so keep your eye on the White House as your first option.) Luckily, the whole world wants to watch the probable roasting of this year's cast of kooky candidates, so there's no shortage of interest — or of networks streaming the event.
If you'll be watching online, the first place you'll want to check out is networks broadcasting the WHCD on their channels, since they'll likely be streaming it online, too. First up? C-SPAN's online streaming. C-SPAN's coverage will begin at 6 p.m. Eastern Time and will include red carpet arrivals, interviews, and — of course — the speeches by hosting comedian Larry Wilmore and Obama.
In the past, CNN and several other networks have offered free streaming of the event online, so don't worry, you'll definitely get to watch the comedic event of the month one way or another. Your best options are still likely the White House's live stream and C-SPAN's live stream, however, since other networks haven't piped up about their streaming yet.
So, what can you expect? Obama is sure to be on fire: not only is he a naturally hilarious guy, but this is his last year — i.e. he'd be missing an opportunity if he didn't go all out. Also, expect comedic contributions from Wilmore, the host of The Nightly Show on Comedy Central, who spoke to Vogue about hosting the dinner for the first time:
I do get just a quick moment [with Obama] before the show, which is kind of cool. I'm inviting my parents, so that's kind of nice. Maybe I'll get a peek at his jokes: What you got, Mr. President? Show a brother what you're coming with! Right. He's like, "Brother, I'm going up first, I don't need your jokes." That's the other thing: I've got to follow a really funny president. It's very intimidating.
Personally, I can't wait to watch it — this year has some serious potential, and I can't miss Obama's last crack at the upcoming candidates, no matter what website I'll be streaming it from.