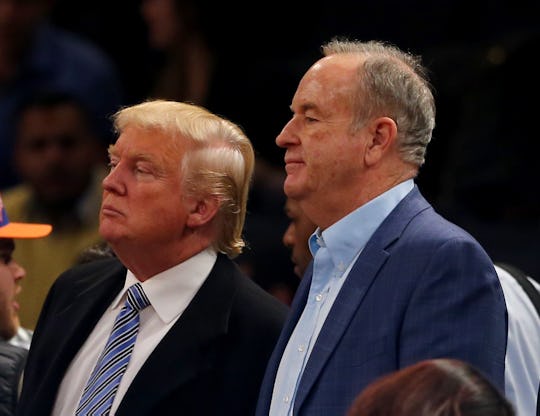 Elsa/Getty Images Sport/Getty Images
How To Stream Trump's Super Bowl Interview
When President Donald Trump took office, much of the world waited in anticipation to see what this new era would hold. And while Trump is definitely already changing many things, and America seems to be in a constant state of unease, our new president is keeping at least one of Obama's legacies in tact: the Super Bowl Sunday presidential interview. If you don't have a TV, or aren't planing to watch the Super Bowl at all this Sunday, there are other ways to see Trump's remarks; And if you're wondering just how to stream Trump's Super Bowl interview, don't worry — you're not alone.
While there's no concrete information in regards to what the president will choose to speak about, we can probably assume (and maybe hope) that he will choose this time to address something other than his inauguration crowd size. The interview on Sunday, which will be conducted by Fox News' Bill O'Reilly, is expected to last for about an hour, although it will be recorded ahead of time, not done live, as President Obama's were.
What we do know, as of right now, is that parts of the interview will be shown on Super Bowl Sunday, on Fox, and that other pieces of Trump's first sit-down since his inauguration will air exclusively on The O'Reilly Factor on Feb. 6. So far, no word has been given about whether the interview will be streamed online as it airs before the game on Sunday, however, there is a strong possibility Fox will stream the interview on its Fox News Go website, and allow users to watch live. After The O'Reilly Factor, the entirety of the interview will be available on Fox News' website.
During the Obama presidency, communication between the presidential administration and the public was changed forever with the launch of Obama's Twitter accounts and those of the White House staff. Now, of course, those accounts have been transferred over to the Trump team, and Trump is continuing to make use of modern forms of digital communication.
While many assumed that Trump would give up his early-morning tweet-storms or social media mockery — which he often employed on the campaign trail — once he took office, he hasn't really stopped. Even as our commander in chief, Trump still tweets seemingly-erratic, sometimes unexplained statements (about which someone could arguably write a 500-page novel in terms of dissecting the meaning or point behind them). But, that's beside the point. Now that he's in office, he's not only using that platform to speak out, he's employing primetime television and official White House channels to get his point across too, for better or worse.
Just this past Tuesday, Trump used Facebook Live to broadcast to the world his choice of justice for the Supreme Court nomination. While many news sites and publications have taken to Facebook Live in the past, Trump's announcement of Neil Gorsuch as his SCOTUS nominee set a new precedent for how we receive breaking information from our president, and it won't be a surprise if Trump also chooses to stream parts of his interview live to his page as well, although no word has been given on the matter as of yet.
For now, all we know is that Sunday night is sure to be one for the books, and Trump's interview will (probably) be watched by millions — something he will no doubt remind us about later, on Twitter, Facebook, and everywhere else.