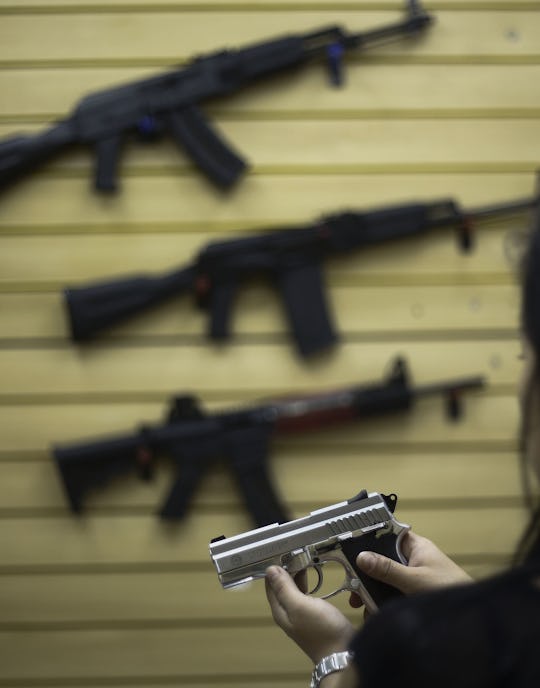 MIGUEL SCHINCARIOL/AFP/Getty Images
How To Stream 'Under the Gun,' Because Parents Will Want To See This Crucial Documentary
Katie Couric's documentary that takes a look at gun laws and gun violence prevention will have its world television premiere on Sunday, May 15. The film follows the Sandy Hook mass shooting tragedy in 2012 (but also includes information about the Aurora, Colorado, shooting) and explores why laws concerning gun safety haven't institutionally changed since. The documentary takes on a much-debated, and crucial topic in the U.S., so you may be wondering how to watch it. Well, there are a few options, but if you'd prefer to access the Sundance documentary online, streaming is available. Here's how to stream Under the Gun.
Epix acquired exclusive rights in the U.S and Canada to Under the Gun, executively produced and narrated by Couric and directed by Stephanie Soechtig. The film will be shown this Sunday at 8 p.m. Eastern Time, on all Epix platforms. According to the company's press release, viewers can stream the documentary on the Epix site for free during the "Epix Free Preview Weekend." The weekend special allows a weekend of access (both TV and Internet) to Epix films through cable providers that don't normally show its films, like AT&T U-Verse, Verizon Fios, Bright House, and Dish Network. Viewers can visit Epix.com to watch Under The Gun, and then enter their cable information from the providers previously listed, or from providers that already have a partnership with Epix, like, Time Warner Cable. If you don't have cable at all, you're in luck. Epix offers a free trial to access its films through May 30. And that's certainly enough time to watch Under The Gun.
"I couldn't understand the disconnect, Matt, between the fact that 90 percent of the public really favors universal background checks, and after Sandy hook, everyone thought this was a watershed moment, something would be done," Couric said in an interview with Matt Laur at The TODAY Show.
On December 14, 2012, a 20-year-old gunman killed 26 people – 20 of them children — in Newton, Connecticut, at the Sandy Hook Elementary School. Investigators learned that the gunman killed his mother prior to the school shooting.
And gun violence and mass shootings have continued to yield startling statistics, to say the least, since Sandy Hook.
According to research by, Gun Violence Archive, cited by Vox, there have been at least 892 mass shootings since Sandy Hook, with shootings killing 967 people and wounding 3,498. The Gun Violence Archive counts mass shootings as events in which four or more people are shot or killed (not including the shooter) in a single incident or event that happens around the same time and location.
"I hope this film will help people have a better understanding of how we got to this point," Couric said according to the Epix press release. "Now is the time for a truly informed, rational conversation about gun violence... "
The documentary follows incidents of mass shootings, as well as daily gun violence in Chicago, the film's website states. Gun violence has, and continues to be a critical conversation that needs public and political engagement. Under the Gun will also continue to be screened at select theaters.