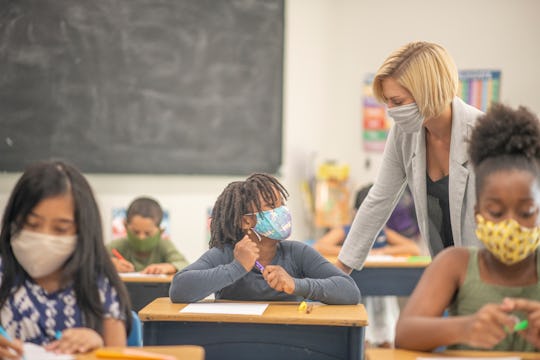 FatCamera/E+/Getty Images
How To Support Parapros This School Year, Because They're Essential, Too
Paraprofessionals are a godsend to students and parents, and with the current state of education, their jobs have never been more difficult. Many parents are looking for ways to support paraprofessionals during the pandemic so they know they're appreciated, and also so that they understand you want to be a partner in your child's education.
My son, who is autistic and has fairly severe ADHD, had a paraprofessional from first grade to fifth grade, and they made all the difference for his life in school. I truly cannot imagine how he would have made his way through elementary without his parapros. After speaking with educators and paraprofessionals, it is clear to me that they are every bit as anxious about this year as parents are, and they are seeking much of the same things in the way of guidance. They are also struggling in ways you might not be aware of. In some areas, paras have been laid off or furloughed, and many have simply been terminated as budget cuts get deeper and deeper. Theirs is a job that is not readily transferable to remote study, which means that they have been some of the first educators to be let go, and they're feeling it.
Finding ways to support your child's paraprofessional might be more straightforward than you thought.