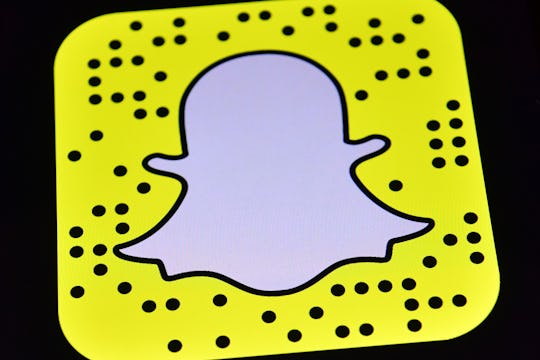 Carl Court/Getty Images News/Getty Images
How To Tag Friends On Your Snapchat Story After The App's Newest Upgrade
Snapchat, the social media app that doesn't go two months without retooling itself, announced two new features on Tuesday as part of its quest to become the one platform that fills all roles for all users. Luckily, this update won't require users to re-learn how to navigate within the app; it's easy to figure out how to tag friends on your Snapchat stories. And unlike some of the more controversial changes, this one seems pretty welcome, since including other people in your posts is, by definition, more "social."
Tagging friends on social media is a nice way to give them a shout-out, and also the polite thing to do, just so they're aware that their photo is being shared with others (always ask first, though, lest you put someone else's bad hair day on blast, or disprove their alibi). Tagging a friend on Snapchat works the same way it does on Facebook, Twitter, Messenger, or Instagram. Once you've created your story, just hit "@" and start typing their username. Once you share it, they'll receive a chat notification letting them know. When others view your story, they'll be able to swipe up to see the tagged user's Bitmoji, public stories (if applicable), or add them as a friend.
The other new feature, which will also be rolled out over the next few weeks, is Group Video Chat. See? Now you don't need Instagram or Google Hangouts, maybe. To use that feature, just start a Group Chat as usual, then tap the video icon. Users can Video Chat with up to 16 friends at a time, but before you start a digital party, maybe make sure you're using a phone with a big screen, and lay down some "virtual talking stick" ground rules. If you can manage to corral even more people who are good about not interrupting, you can also create a Group Voice Chat by tapping the phone icon, and add up to 32 friends (which this member of a large Irish family finds very overwhelming, but you do you).
The ability to tag friends in an Instagram story had been around for nearly a year and a half before Snapchat caught up; according to PopSugar, the feature appeared on that platform in late 2016. Similarly to Snapchat's functionality, users can type "@" plus a username on their post, and their friend will by notified via Direct Message, Instagram's version of a chat. Tapping a username in an Instagram story will direct viewers to that person's profile.
The new tagging ability might worry some users who joined Snapchat back when its main draws were privacy and anonymity, particularly since in January, the app announced that users would now be able to share Snapchat Stories outside the app. But that only applies to public stories, and, according to Refinery 29, when you tag a friend in your story, you'll still be able to designate who is allowed to view it. Public stories, meanwhile, can be be shared from the Discover tab, search, or curated Our Stories by tapping and holding the center of the tile, then selecting "share." Shared stories will show up as a link on some platforms, while others, such as Twitter, will allow users to view them inline, according to New York Magazine.
It may be puzzling to some users why an app originally built for private conversations with an expiration date would allow public sharing, but it's just a reflection of the way people are using Snapchat these days. Users want to be able to share posts from celebrities or Snaps of newsworthy moments, and this functionality reflects that desire, while tagging friends and Group Video Chat speaks to the app's more personal uses. As the company detailed in a November blog post, its redesigned layout "separates the social from the media," while still leaving room for both. In an era where fake news and cat pictures are intermingled in everyone's feed, this could be the answer we're looking for.