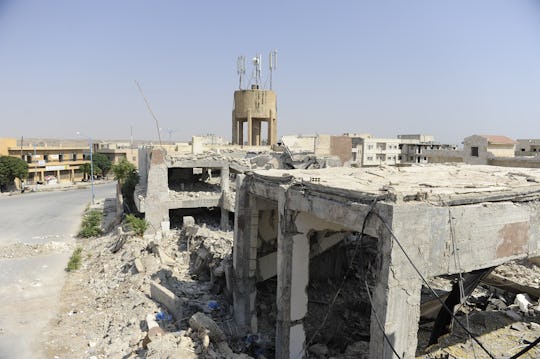 Defne Karadeniz/Getty Images News/Getty Images
How To Talk To Your Kids About Syria
On Thursday evening, President Donald Trump ordered an airstrike on a Syrian airfield in response to a chemical attack in Syria this week that killed dozens of people including small children. The fateful move marks the first military action by the United States on government forces in Syria during its six-year civil war. If you're a parent, you may have children who are curious about the missile strike and what's happening overseas. If you're not sure how, though, here are some tips on how to talk to your kids about Syria.
As parents, it's our natural reaction to want to protect our children from violence and suffering before they are old enough to understand. But it's also important that they know what is happening around the world so that they can grow up to be caring, compassionate, and well-informed citizens. More so, talking to your kids about the Syrian civil war—and the trauma its inflicted on the country's innocent children and adults—will allow them process their reactions to the news and images that they hear, read, and see.
Most importantly, if you explain to your children about what's happening in Syria, you will help them better understand the differences and disparities in the world, and their privilege within that space.
Be Open and Honest
Although you may want to shield or water down the truth, doing so won't help your kids understand what's actually going on. UNICEF suggests explaining the Syrian crisis to children truthfully, but in a way that minimizes stress. That would mean using age-appropriate language, watching their reactions, and being cognizant of what makes them anxious.
Read A Children's Book About Refugees
For some younger children, images are a better way for them to interpret information and encourage empathy. The Lutheran Immigration and Refugee Service suggests sitting down with your kids and reading a children's book on refugees — such as The Journey by Francesca Sanna — so that they can have a visual aid as they try to understand the journey of people fleeing war.
Ask Open Questions & Listen Thoughtfully
Sometimes the best way to work through a heavy subject with your child is by allowing them to talk without restriction. UNICEF suggests first asking your kid permission to talk about the civil war in Syria, and then taking their lead if they say yes or no (if they say no, don't push them to). If they do want to talk, ask open questions and listen thoughtfully to their answers. You can incorporate other activities during your discussion, like drawing or writing. But don't minimize their concerns and always acknowledge their feelings. Let them know it's natural to feel scared, sad, or anxious about traumatic events.
Explore Answers Together
Your children are bound to ask you questions you won't know the answers to. Instead of saying "I don't know," sit down with your children and explore the answers together. Visit websites for UNICEF, International Rescue Committee, and other humanitarian aid groups that would have information on the Syrian civil war and ways to help. You could also take the time to work through online resources put together by news agencies like PBS' NewsHour Extra that breaks down the crisis in a child-friendly way. When you explore answers together, you are giving your kid support and are available to go over information that is difficult for them to understand.
Talking to your kids about Syria will be hard. But taking the time to explain what is happening in the country will help them better understand the information they're already exposed to — and will let them know they have a safe place to talk about their feelings.