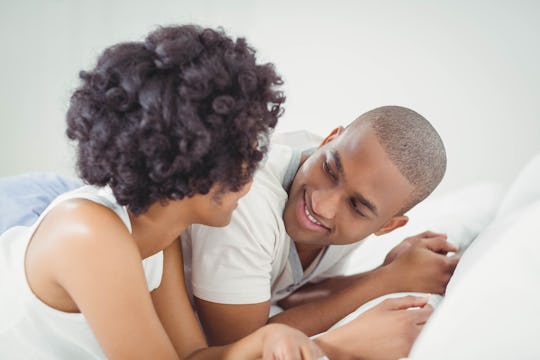 WavebreakmediaMicro/Fotolia
How To Talk To Your Partner About Bad Postpartum Sex
Postpartum sex will be different than pre-baby sex, that's pretty much a given. But what if it's just plain bad? How long do you let bad bump-and-grind continue before you do something about it? Sex is certainly a sensitive topic and you probably don't want to bruise your partner's ego. You also probably want to stay together. This is why knowing how to tell your partner postpartum sex isn't good, without totally destroying them, is an important skill to master.
Generally speaking, postpartum women can have sex at the six week mark, according to Web MD. To be clear, this healing time is the bare minimum and possibly not even the norm. Recent research out of the University of Michigan found that child birth is one of the most traumatic events the human body can undergo, and 15 percent of women sustain pelvic injuries that don't heal. It was likened to an athlete running a marathon. So if sex is bad postpartum it could mean a couple of different things and not necessarily that your partner is horrible in bed. For starters, it could be a signal that you're still healing and you both need to have patience. It could also mean you both need to be open to making adjustments and modifications in your sex life either temporarily or permanently.
It all starts with talking about how you're feeling. "Many people are hesitant to reveal their deepest sexual thoughts and desires out of fear of rejection or ridicule," Dana B. Myers, founder of Booty Parlor, author of The Mojo Makeover: 4 Weeks to a Sexier You, and mother of 2, tells Romper. "So be patient, and listen without judgement so your partner feels free to be an equal player in the discussion."
To get you moving (and grooving) in the right direction, here are seven ways you can start to tell your partner that you're not feeling postpartum sex.