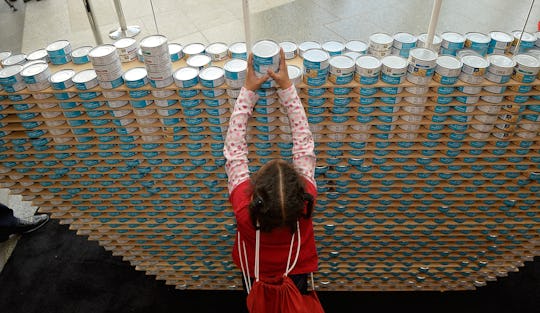 Grant Halverson/Getty Images Entertainment/Getty Images
How To Tell If Your Chicken Of The Sea Tuna Is Affected By The Recall
It's time to check your tuna cans: following a recall earlier this week by Bumble Bee Foods LLC, Tri-Union Seafoods LLC announced a voluntary recall of 107,280 cans of Chicken of the Sea "chunk light" tuna, according to the FDA. Admitting that equipment malfunction was the reason behind the decision, the company also explained in their announcement how to tell if your Chicken of the Sea tuna is affected by the recall: check the UPC code and Best By date. Recalled cans of Chicken of the Sea 5 oz. canned chunk light tuna in oil will have the UPC code 0 4800000195 5 on the label of the can, and a Best By date of 2/10/19 printed on the bottom of the can. Recalled cans of Chicken of the Sea 5 oz. canned chunk light tuna in water will carry the UPC code 4800000245 7 and any of the following Best By dates: Feb. 18, 2019; Feb. 22, 2019; Feb. 23, 2019; Feb. 25, 2019; March 2, 2019; and, March 3, 2019.
According to USA Today, all of the affected cans were sold in stores between Feb. 10 and March 16. No illnesses have been reported as a result of the malfunction, but consumers have been advised to return the recalled product to the store where it was purchased to receive a refund.
According to TIME, the equipment malfunction cited in the recall is concerning, because it could mean that the tuna was sold undercooked — potentially resulting in "contamination by spoilage organisms or pathogens, which could lead to life-threatening illness if consumed." While the news is unwelcome for tuna-lovers, it's much worse for Tri-Union Seafoods: the Chicken of the Sea recall is three times as large as the recall by Bumble Bee Food, who itself had to recall more than 31,000 cans.
But that's not all: according to Fox News, H-E-B has also joined Chicken of the Sea and Bumble Bee in recalling some of its chunk light tuna — specifically Hill Country Fare brand chunk light tuna in oil sold in Texas stores between February 24 and March 16. The recalled UPC code is 0 4122065335 5. According to John DeBeer, vice president of Quality and Compliance for Chicken of the Sea, an internal investigation of other seafood products manufactured in the same facility has shown that only those brands were affected.
Unsure whether or not the Chicken of the Sea recall affects you? Consumers can call the 24-hour recall information line at 1-866-600-2681 with questions, according to Food Safety News.
But, you know, maybe some questions should be kept to yourself.