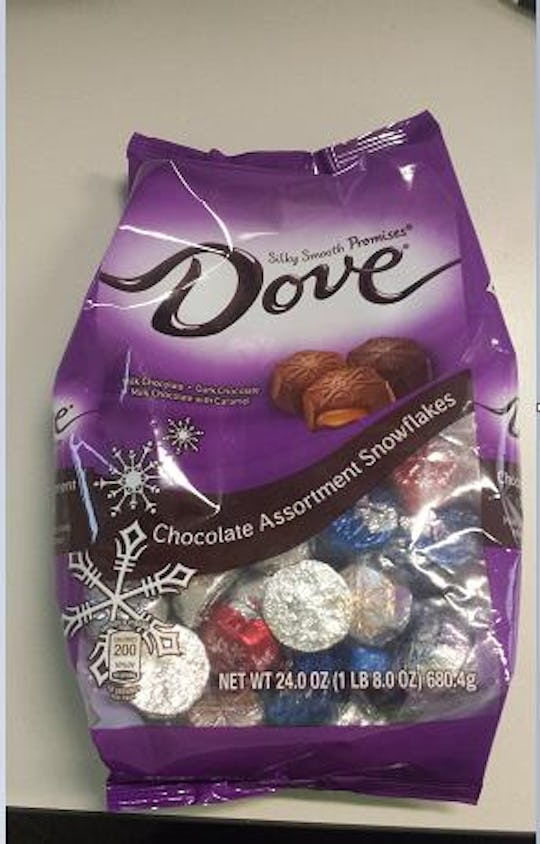 How To Tell If Your Dove Chocolate Was Recalled? Mars Has Pulled Nearly 7,000 Cases In 35 States
In what might be the saddest news for chocolate lovers this holiday season, Mars Chocolate has issued a voluntary recall of more than 80,000 bags of holiday-themed chocolate over allergy concerns. So, is your Dove chocolate on the recall list? The recall is limited to a specific product sold only at Walmart stores since Sept. 19. In an email to Romper Tuesday, a Dove spokesperson provided the following statement:
Mars Chocolate North America have announced a voluntary recall of its DOVE(r) Chocolate Assortment Snowflakes 24 oz. bags, item #10139802 which is sold only in Walmart stores. There were no injuries involved. This item may contain product containing peanuts, wheat and/or eggs without being listed on the ingredient label. People who have an allergy or sensitivity to peanuts, wheat and/or eggs run the risk of an allergic reaction if they consume this item. For those who do not suffer from a peanut, wheat or egg allergy or sensitivity, the product is safe to consume.
We are fully cooperating with the FDA on this matter. Food safety and product quality are of paramount importance to Mars, and we are committed to the highest standards for all of our products.
According to an FDA press release, last week the brand announced plans to pull bags of Dove Chocolate Assortment Snowflakes from shelves after reports that customers had discovered pieces of Snickers, Twix, and Milky Way mixed in with the Dove chocolates. While some might consider that kind of surprise cause for celebration, the candy bars could include peanuts, wheat, or egg ingredients. None of those ingredients were listed on the product labels, making them dangerous for anyone with those allergies or food sensitivities.
Mars Chocolates North America learned about the mix-up after a consumer reported finding pieces of a Snickers bar in a 24-ounce bag of Dove Snowflakes. The good news is that so far no customers have reported adverse effects, according to CBS News. Still, the products were available for purchase at Walmart stores in most states between Sept. 19 and Dec. 1, so Mars and Walmart are both urging shoppers to check any products they might have already purchased.
The products were shipped to stores in the following states: Arizona, Georgia, Massachusetts, Mississippi, Ohio, Virginia, California, Iowa, Maryland, New Hampshire, Oklahoma, Vermont, Colorado, Illinois, Maine, New Jersey, Oregon, Washington, Connecticut, Indiana, Michigan, New Mexico, Pennsylvania, Wisconsin,Delaware, Kansas, Minnesota, Nevada, Rhode Island, Wyoming, Florida, Kentucky, Montana, New York, and Texas.
If you live or shop in one of those states, the easiest way to tell if your Dove chocolate is on the recall list is to check the UPC code located on the back of the package on the lower right side. The tainted packages are marked with item number 10139802, UPC number 400050521, and one of the following lot codes:
537CG4PA30
537DG4PA30
538AG4PA30
538AM4PA30
541AG4PA20
542EM4PA20
Customers can bring the chocolate back to the store they purchased it from for a full refund. A Walmart spokesperson told CBS News the company plans to "pull and destroy" any tainted products found on its shelves. Customers with questions should call Mars Chocolate's toll-free number at 1-800-551-0907.
Image: FDA