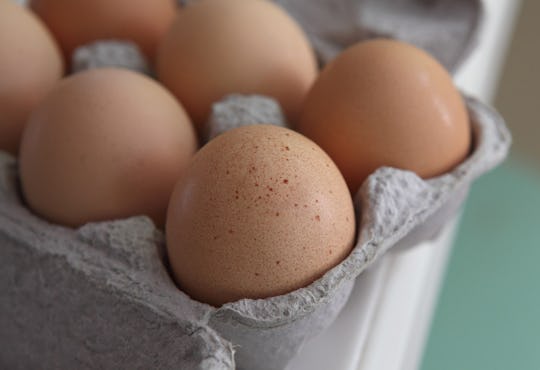 Justin Sullivan/Getty Images News/Getty Images
How To Tell If Your Eggs Are A Part Of A Recent Voluntary Recall
Parents are pretty particular about their children's diets and what goes into their bodies and children are especially picky eaters. One thing that most picky eaters seem to love, however, is eggs (probably because they're so delicious no matter how you cook them). But before parents reach into their refrigerators at the start of the school week to make their kids an omelette, they might want to check if their eggs have been voluntarily recalled due to a voluntary recall over the weekend.
Over the weekend, the Food and Drug Administration issued the voluntary recall after it was discovered that eggs distributed from Rose Acre Farm's Hyde County Farm in North Carolina "had the potential to be contaminated with salmonella branderup," an organism that can lead to infections in those with weakened immune systems, and caused 22 illnesses. But this isn't a small batch kind of thing, according to CNN. This voluntary recall effects more than 200 million eggs, according to USA Today, that could be in homes and restaurants across the nation.
For consumers, finding out if their eggs are a part of this voluntary recall should be easy, especially since the eggs were only distributed to ten states, according to the FDA — Colorado, Florida, New Jersey, New York, North Carolina, Pennsylvania, South Carolina, and West Virginia.
People should be paying attention to where they purchased their eggs or what brand their eggs are. The eggs that are a part of the voluntary recalled were sold under the brands — Country Daybreak, Food Lion, Nelms, Crystal Farms, Coburn Farms, Glenview, and Great Value (which is Walmart's in house brand), according to the FDA.
Gene Grabowski, a representative for Rose Acre Farms told Romper, in a statement:
22 illnesses have been reported to date. Some of the reported illnesses were linked to grocery stores where Rose Acre Farms does not supply eggs at all. Nevertheless, the company conducted the recall out of an abundance of caution to ensure that we are doing everything possible to provide our retail customers with safe products and to preserve the trust we have built with them, as well as with consumers and their families for many decades.
The Hyde County farm has never before experienced a recall or serious safety violation. The recall was conducted in full cooperation with the FDA and look forward to getting the Hyde County farm back in operation as soon as possible.
Because of all of this information that is out there, telling if your eggs in your refrigerator have been voluntarily recalled should be as simple as opening up the refrigerator and seeing if the brand on the egg carton matches any of the brands listed above. If your eggs were purchased in those states and are from those brands, you can visit the FDA's website to determine if the UPC code printed on the side of the carton matches any of the ones listed on the website.
If your eggs are a part of the voluntary recall, there is a quick solution to the problem — make sure that no one in your house consumes those eggs — but don't throw them away, either, according to USA Today. Instead, you can hold onto the eggs and bring them back to the place you purchased them for a full refund.
Salmonella isn't something that people necessarily want to mess with. Symptoms of this infection can include diarrhea, fever, and abdominal cramps that can last anywhere from 12 hours to several days after the infection, according to the Centers for Disease Control and Prevention. While most people end up recovering without treatment, according to the CDC, children who are younger than five and the elderly are more likely to experience more severe illness.
Consumers with any questions are being advised to call the company at 855-215-5730 between the hours of 8 a.m. until 5 p.m. eastern standard time, according to Grabowski, which is very helpful. People might want to ask questions, especially if they can't determine if their eggs are a part of the recall, but aren't looking to take any chances with salmonella.