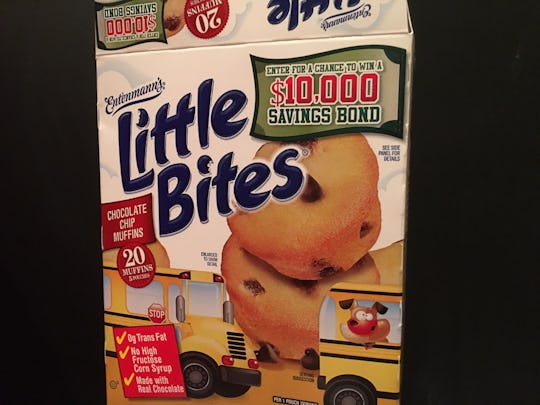 Courtesy of Kim Zapata
How To Tell If Your Entenmann's Mini Muffins Have Been Recalled
Late Wednesday night, Bimbo Bakeries USA — the company that makes Entenmann's products — issued a voluntary recall of some Little Bites muffins and brownies. According to a statement released by Bimbo, the recalled lots may contain "small pieces of plastic" and pose a "choking and/or cutting hazard." But how can you tell if your Entenmann's mini muffins have been recalled?
The good news is that only three flavors were recalled: Blueberry muffins, Chocolate Chip muffins, and Little Bites Fudge Brownies. Unfortunately, if my toddler's palate is any indication, the chocolate varieties are also some of the most popular.
All of the affected products were shipped and sold within the past two weeks, though the "Best-By" dates will vary, depending on the size of your box:
Little Bites Fudge Brownies (5 pack), best buy Oct. 8
Little Bites Chocolate Chip Muffins (5 and 10 pack boxes), best buy Oct. 8
Little Bites Variety Pack (20 pack), best by Sept. 24
However, the code number "3098" will be printed on all recalled packages next to said date. The recall affects 30 states. A list of all recalled muffins and brownies, and their UPC codes, can be found on Bimbo's website and through the FDA.
At the time of the release, Bimbo stated no other Entenmann's products had been affected; however, if you have any questions regarding the recall, Bimbo USA is encouraging you contact them directly at 1-800-984-0989.
According to CNN Money, the problem stems from a "manufacturing failure at a contract manufacturer's bakery in Illinois," and the recall was prompted by consumer complaints and, according to the press release, one injury.
This is not the first recall for Bimbo Bakeries USA. Last year the company voluntarily recalled numerous varieties of Thomas', Sara Lee and Jewel bagels because they had been potentially contaminated with "undeclared peanuts and almonds." (The same problem they had in 2013.) And in 2011, Entenmann's Pop'ems Donuts and Bimbo Donitas Donuts were recalled "due to [an] off-smell and possible mold growth." However, an all cases, as in this case, the Food and Drug Administration had been notified of the recall.
Retailers have been contacted and ordered to immediately remove all affected products from their store shelves.
If you have any of the recalled muffins or brownies in your home, Bimbo is advising you immediately throw them away or return the products to their place of purchase for a full refund.