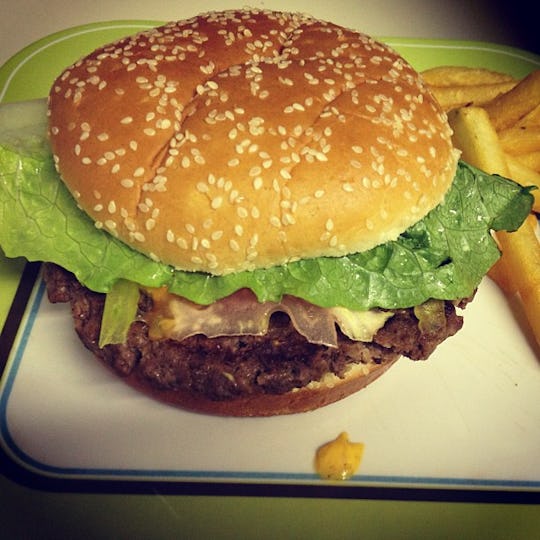 How To Tell If Your Ground Beef Might Have E. Coli In The Wake Of The All American Meats Recall
First Chipotle and now this?! More than 167,000 lbs. of ground beef from Nebraska-based All American Meats, Inc. have been recalled after it was determined the meat could have been contaminated by E. coli. But, before you break your kid's heart by canceling hamburger night, there are a few ways to tell if your ground beef could have E. Coli or is otherwise affected by the recall. (Romper called All American Meats, Inc. for comment but did not immediately reach a spokesperson. An attorney for the company told ABC News Monday, "Our focus at this time is to cooperate fully with the recall protocol" and said, "Everything produced [Oct. 16] was recalled as a precaution.")
The U.S. Department of Agriculture reports the recalled meat was produced on October 16, and has a sell-by date of November 3. On the label of each package, there is a USDA stamp with the establishment number "EST. 20420." On top of that, the ground beef was shipped nationwide, but it was only sold in 60 lbs. or 80 lbs. packages. Unfortunately, the list of retailers that sold the contaminated ground beef isn't yet available — but will be posted on the USDA's Food Safety and Inspection Service (FSIS) website when it is. If the ground beef in your fridge matches those criteria, do not try to salvage it! Just throw it away or return it to the retailer. 
The good news about this case is that the USDA says there "have been no confirmed reports of adverse reactions due to consumption of these products." The E. coli contamination was just discovered from the FSIS' in-commerce surveillance program testing, so shout out to them for doing good work! But the incident highlights how easily contaminated ground beef can slide under the radar and into the bellies of consumers, despite companies' best intentions and precautions. 
"There's no way to tell by looking at a package of meat or smelling it whether it has harmful bacteria or not," Urvashi Rangan, Ph.D., executive director of the Center for Food Safety and Sustainability at Consumer Reports, said last month about general rules for determining if ground beef is safe to consume. The FSIS recommends the best was to ward off E. coli found in ground beef is by only eating it when it's cooked to 160 degrees at its thickest part. That means you need to say goodbye to rare or medium-rare hamburgers — which is bad news for the estimated 28 percent of Americans who eat raw or undercooked ground beef. But it seems like a worthy compromise when you consider the symptoms of E. coli include severe bloody diarrhea and stomach cramps and that it can be deadly, especially among young children and the elderly.
As part of their investigation into ground beef safety, Consumer Reports also found that conventionally raised cattle are more likely to produce contaminated meat. (Only read this if you have a strong stomach, but all of their samples "contained bacteria that signified fecal contamination.") On the other hand, Consumer Reports found grass-fed, antibiotic-free cattle not only live better lives, but produce "safer meat" for consumers. If you have any additional questions about food safety, the FSIS houses "Ask Karen," a 24/7 live chat. 
Image: Vrysxy/Flickr