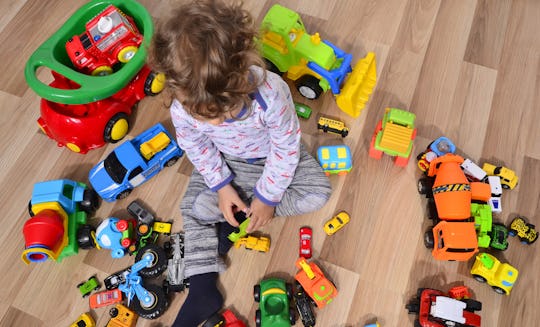 iulianvalentin/Fotolia
How To Tell If Your Kid Is Too Overwhelmed By Their Toys, Because Sometimes Less Is More
Plenty of adults love the idea of simplifying their lives with fewer possessions, as evidenced by the popularity of the minimalist movement. But can the same idea apply to kids as well? Knowing how to tell if your kid is too overwhelmed by their toys might eliminate stress from both of your lives. At some point, it's simply time to downsize the toy chest.
In fact, childcare experts caution against providing too many playthings for your little one. In many ways, the excess can make playtime less fun. "They pick up one toy, drop it, and move on. They can't focus on using any of their things to the fullest," said Margaret Sheridan, Ph.D., chair of the human development department at Connecticut College, in Parenting. This is such a shame, too, because playtime should be all about fun and learning, not stress from too many possessions.
But deciding exactly how many toys count as too many is not always easy. It depends on the kid and, thankfully, by paying attention to your child's reactions and stress levels, it's possible to strike a balance in the playroom. Ideally, your child will have enough awesome toys on hand to keep them busy, and you'll regain a little space in your home in the process.