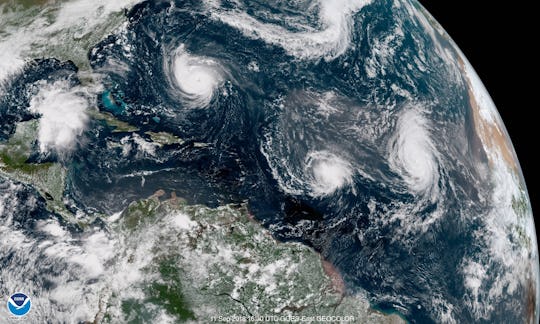 Handout/Getty Images News/Getty Images
How To Tell If Your Kid's School Is Closed Because Of Hurricane Florence
Hurricane Florence is making its way to the East Coast, and is expected to make landfall this Thursday as an extremely dangerous Category 4 hurricane with the Carolinas expected to be hit the hardest. While residents are buckling down, evacuating, and stocking up on supplies, parents are taking extra precautions in keeping their kids home from school and safe. But if you're wondering how to tell if your kid's school is closed because of Hurricane Florence, here's what you need to know.
Many schools are making automated calls or sending text alerts with important closure information to parents, according to The Post and Courier. If you haven't received a call, call them — either the school or the school district directly. They will most likely have a recording of the most recent information.
If your child attends a private, charter or magnet school, the best line of defense is calling the school directly to find out about closures. As always, use parental discretion in keeping kids home, even if schools remain open. There's nothing wrong with taking the better-safe-than-sorry route during a natural disaster.
In addition, be sure to keep an eye on your local news — online, television, or radio depending on what is available due to the storm.
So far, as local ABC news affiliate WJCL reported, seven counties have announced school closures, including: Bladen County Schools, Brunswick County Schools, Colombus County Schools, Duplin County Schools, New Hanover County Schools, Pender County Schools, and Whiteville City Schools. More are expected.
It's also important to note that schools are used as resources during natural disasters. WJCL also reported that buses will be used to transport supplies and help with evacuations.
Officials also recommend keeping an eye on your local weather, according to ABC New York. Things can change quickly, going from bad to worse, so it's wise to stay in the loop as much as you can.
And, between now and Thursday, it's also a good time to find your emergency kits and make sure they are stocked appropriately. According to the Department of Homeland Security, emergency kits should include:
One gallon of water for each person for three days.
Three day supply of non perishable food
Battery-powered or hand crank radio and a NOAA Weather Radio with tone alert
Flashlight
First aid kit
Extra batteries
Whistle or air horn
Make shift shelter materials like plastic sheeting and duct tape, plus dust masks in case of contaminated air.
Personal sanitation supplies like moist towelettes, garbage bags and plastic ties
Tools to turn off utilities like a wrench or pliers
Can opener
Local maps
Chargers with battery back ups for cell phones
Necessary medications for all family members
Natural disasters are not only alarming for parents, but for kids as well. Keeping things light and fun can help resolve some of the stress. As Motherly writer and editor Lacey Wulf recommended: "If you're seeking shelter from a tornado at night, collect everyone for a family sleepover. During power outages, bust out the board games and get creative with games and food recipes."
Parents should know that fear can start during the preparation time, during the event, and during its aftermath. Keep in mind that children may be affected even after the natural disaster passes. According to the National Association of School Psychologists, "Children may re-experience startle responses, anxiety, and significant stress if they had negative experiences during a hurricane. If weather events reoccur, children may then re-experience similar stress reactions."
Overall, your child should be confident that their parents, as well as their schools, are taking all precautions to keep them safe. Let them know that all the important adults in their lives, including teachers, are thinking about them during this time. And, school closures are a part of keeping them safe.