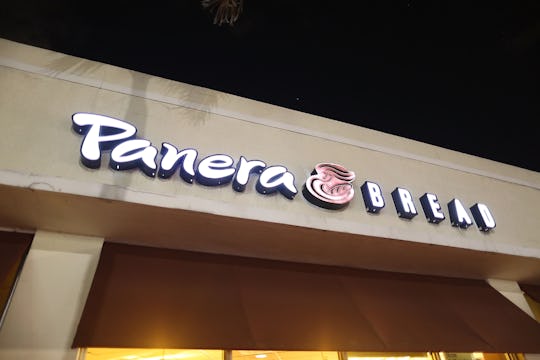 Joe Raedle/Getty Images News/Getty Images
This Panera Bread Cream Cheese Has Been Recalled For Listeria Concerns, So Check Yours
About to tear into your morning bagel? You might want to wait a minute. First, it's probably a good idea to find out if your Panera Bread cream cheese has been recalled, because ain't nobody got time for listeria. The sandwich chain issued a national recall of the spread on Monday after learning about a potential contamination situation, according to USA Today. No illnesses have been reported so far, but some samples came back positive when testing for the presence of the bacteria. Panera did not immediately respond to Romper's request for additional comment.
According to the company's announcement, the voluntary recall covers all 2-ounce and 8-ounce cream cheese products sold in its U.S. locations, although the positive test results were only found in samples of one variety of cream cheese sold in 2-ounce packages. The products in question were all manufactured on the same day; tests on cream cheese samples manufactured both before and after the contaminated production run all came back negative. Still, the company is proceeding with an abundance of caution. Plain Cream Cheese, Reduced-Fat Plain Cream Cheese, Reduced-Fat Chive & Onion Cream Cheese, Reduced-Fat Honey Walnut Cream Cheese, and Reduced-Fat Wild Blueberry Cream Cheese in both 2 and 8 oz. packages should not be consumed.
Customers are advised to discard all Panera Bread cream cheese products with an expiration date on or before April 2018, and to contact Panera Bread Customer Service at 1-855-6-PANERA from Monday through Sunday, 5:00 a.m. to 10:00 p.m. CST, or visit the Panera Bread website for a full refund.
A statement from Panera Bread President and CEO Blaine Hurst accompanied the recall announcement:
The safety of our guests and associates is paramount, therefore we are recalling all cream cheese products sold in the US with an active shelf life. We have likewise ceased all manufacturing in the associated cream cheese facility. Only one variety of 2-oz cream cheese from a single day yielded the positive result. Our intent is to go above and beyond for our guests. You should expect nothing less from Panera.
The recall only affects cream cheese sold in Panera Bread's U.S. stores, and does not affect products sold in Canadian stores, or any other Panera Bread products. But since bagels are largely useless without cream cheese (come at me, butter and Neufchâtel fans), your breakfast is basically ruined, and you should probably just go back to bed.
Like other types of food poisoning, listeria symptoms include fever and diarrhea, according to the Centers for Disease control, but it can potentially lead to invasive listeriosis, a condition where the bacteria spreads beyond the gut. Invasive listeriosis symptoms typically show up 1 to 4 weeks after eating contaminated food, but patients have reported symptoms beginning as long as 70 days after exposure, or as early as the same day. Pregnant women, the elderly, and those with weakened immune symptoms are at an increased risk for contracting listeriosis.
Symptoms of invasive listeriosis vary depending on if the patient is pregnant or not. Those who aren't pregnant may experience fever, muscle aches, headache, stiff neck, confusion, loss of balance, and convulsions. Pregnant women tend to have only limited flu-like symptoms, like fever, fatigue, and muscle aches, and some have no symptoms. Listeria infection during pregnancy can lead to miscarriage, stillbirth, premature delivery, or life-threatening infections in newborns, such as sepsis and meningitis. There is good news, though: listeria infection can be detected with a blood test, according to the American College of Obstetricians and Gynecologists, and it's effectively managed with high-dose intravenous antibiotics. Although it's probably futile to tell a pregnant woman not to freak out, I'll do so anyway: if you're pregnant and experiencing listeriosis symptoms, please, don't freak out; but do visit your doctor right away. Also, I'm really sorry about your ruined bagel.