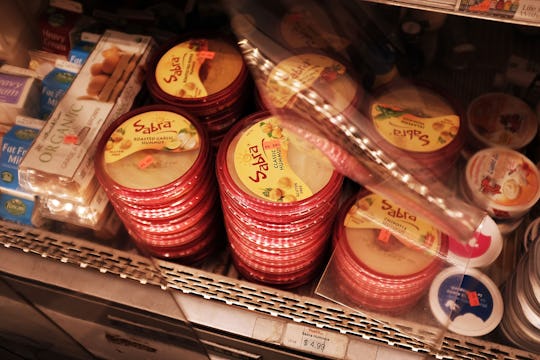 Spencer Platt/Getty Images News/Getty Images
How To Tell If Your Sabra Hummus Was Included In The Recent Listeria Recall
Hummus is the best — it is a filling, delicious snack that pairs perfectly with vegetables and crackers at any point in the day. Unfortunately, one brand of hummus, Sabra, has voluntarily recalled its product due to a possible listeria outbreak in its factory. Luckily, there are a few helpful ways to tell if your Sabra Hummus was included in the recent recall, so that you and your loved ones don't risk the potential of becoming sick.
Sabra announced that Listeria monoctocygnes were found in one of its factories where the hummus products in question were produced, and issued a voluntary recall of its related hummus products. Sabra is a popular brand name found in grocery stores all across the nation — and a container of its popular hummus might even be hiding in your refrigerator behind last night's Chinese food, right now.
If you think your Sabra hummus might have been included in the recall, there are a few steps to take to confirm that. First, head to your refrigerator and locate the hummus. Per the Sabra website, locate the "best before" date on the hummus container's lid. Any product with a best before date up through Jan. 23, 2017 is a part of this voluntary recall — according to Sabra, customers are urged to throw away their hummus with this date.
The second part about telling whether your Sabra hummus was included in the recall is identifying what hummus product is in your refrigerator. A lot of products — varying in sizes and flavors — were included in the recall. The full list of voluntarily recalled products can be found down below:
Sabra Hummus Caramelized Onion
Sabra Hummus Classic
Sabra Hummus Classic with pretzels
Sabra Hummus Garlic
Sabra Hummus Garlic with pretzels
Sabra Hummus Jalapeno
Sabra Hummus Olive
Sabra Hummus Pine Nut
Sabra Hummus Red Pepper
Sabra Hummus Red Pepper with pretzels
Sabra Hummus Supremely Spicy
Sabra Hummus Spinach and Artichoke
Sabra Hummus Basil-Pesto
Sabra Hummus Tuscan Herb Garden
Sabra Hummus Bold and Spicy
Sabra Hummus Lemon
Sabra Hummus SF Rosemary/Sea Salt
Sabra Spreads Spicy Chili
Sabra Spreads Garlic Herb
Sabra Spreads Honey Mustard
Sabra Spreads Salt & Pepper
Sabra Hummus Taco
Sabra Hummus 3 Pepper Chili
Yes, the list is very extensive — which means that if you're a brand loyalist, you'll definitely want to double check and make sure your favorite kind is not part of the voluntary recall. Even if you purchased your hummus minutes before reading this article, you should still check to see if it is a part of the recall; Listeriosis, the infection caused by the monoctocygnes, is a serious concern. The organism can cause infections in people with weakened immune systems, such as elderly people, young children and pregnant women, according to the FDA. People with stronger immune systems run the risk of becoming sick with a high fever, strong headaches, and might even experience nausea among other symptoms.
And what if your Sabra Hummus was included in the recall? Don't sweat it. Sabra is reimbursing customers who fill out the form on this website before throwing their hummus away.
If you have Sabra Hummus lying around in your refrigerator, you might be a part of this recall. Double check just to make sure and then go to the store and buy new hummus — because no one can resist its deliciousness for long. (Just be extra vigilant for the time being.)