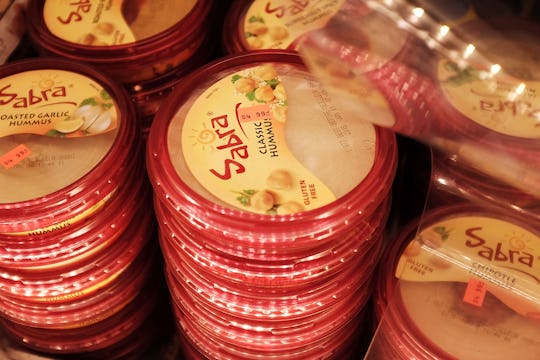 Spencer Platt/Getty Images News/Getty Images
How To Tell If Your Sabra Hummus Was Recalled, Because It Could Be Contaminated
Take note, hummus lovers: Sabra Dipping Co. has issued a voluntary recall for its products due to a possible listeria risk. Wondering how to tell if your Sabra hummus was recalled? According to TIME, the U.S. Food and Drug Administration announced the recall on Saturday, and explained in a release that listeria bacteria was found at a manufacturing facility where Sabra products are made, but that tested finished products were not found to be contaminated. In any case, the company is recommending the products be recalled as a precaution, and the FDA is calling for consumers to discard any Sabra hummus purchased in the U.S. and Canada with a "Best Before" date prior to and including Jan. 23, 2017.
The hummus varieties included in the recall specifically are Sabra Hummus Caramelized Onion, Sabra Hummus Classic, Sabra Hummus Garlic, Sabra Hummus Jalapeno, Sabra Hummus Olive, Sabra Hummus Pine Nut, Sabra Hummus Red Pepper, Sabra Hummus Supremely Spicy, Sabra Hummus Spinach & Artichoke, Sabra Hummus Sun Dried Tomato, Sabra Hummus Basil-Pesto, Sabra Hummus Basil-Pesto, Sabra Hummus Bold & Spicy, Sabra Hummus Lemon, Sabra Hummus Rosemary & Sea Salt, Sabra Hummus Taco, and Sabra Hummus 3 Pepper Chili. A number of Sabra spread flavors were also recalled, including Sabra Spreads Spicy Chili, Sabra Spreads Garlic Herb, Sabra Spreads Honey Mustard, and Sabra Spreads Salt & Pepper.
More details, including UPC and SKU codes of the recalled items are listed on the FDA website. Consumers can also contact Sabra Consumer Relations at 1-866-265-6761 if they have questions, and anyone looking to be reimbursed for their discarded hummus can find more information at www.sabrahummusrecall.com. On the bright side, you don't have to get rid of all your Sabra products: according to the FDA, only the above regular hummus and spread varieties were affected by the possible contamination. That means all Sabra Organic Hummus, Sabra Salsa, Sabra Guacamole, and Sabra Greek Yogurt Dips are still safe to enjoy.
Saturday's recall isn't the first time this year that Sabra Dipping Co. has had to issue a warning about possible listeria contamination. According to CNN, the company also issued a recall for 30,000 cases of hummus back in April, after a "routine, random sample collected at a Michigan store," in March tested positive for the pathogen.
According to The Centers for Disease Control, Listeria monocytogenes is a bacterium that can cause a serious infection called listeriosis when contaminated foods are consumed. The elderly, pregnant women, newborns, and immunocompromised adults are most at risk for listeriosis, but rarely, healthy children and adults can also experience serious complications. The most common symptoms of listeriosis include fever and muscle aches, and sometimes diarrhea or other gastrointestinal issues. Other symptoms can include headache, stiff neck, confusion, loss of balance, and convulsions. Pregnant women tend to experience symptoms that are more vague, such as fever, fatigue, and body aches, but listeriosis is particularly concerning in this population, as it can cause "miscarriage, stillbirth, premature delivery, or life-threatening infection of the newborn," according to the CDC, and anyone who has developed listeriosis could develop septicemia, meningitis, or could even die.
As a result, prevention techniques to reduce the risk of food-borne illnesses (like washing produce before eating, avoiding cross-contamination, and washing hands, knives, countertops, cutting board, etc.) are all important precautions. The CDC recommends that those who are at a higher risk for listeriosis complications should avoid consuming certain products more likely to be contaminated, like hot dogs and deli meat; soft or unpasteurized cheese; or refrigerated, smoked seafood (like smoked salmon). Melons should also be more carefully handled due to possible listeria risk: specifically, the CDC recommends washing hands before and after handling whole melons, scrubbing the surface prior to cutting, and refrigerating melon promptly and discarding any melon left out at room temperature for more than four hours, or any refrigerated melon after seven days.
Despite the many scary-sounding symptoms, it's still important to note that none of the recalled hummus products tested were found to actually contain listeria bacteria, and the recall is voluntary. Good hygiene and food handling practices, combined with the avoidance of high-risk foods for those at a greater risk can reduce the likelihood of serious illness even further. The bottom line? Check your hummus, and if it's listed in the recall, it's best to throw it away.