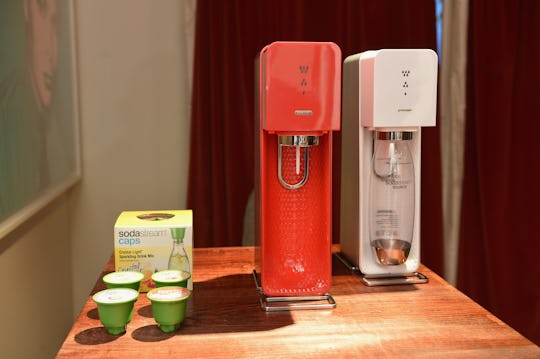 Mike Coppola/Getty Images Entertainment/Getty Images
Was Your SodaStream Bottle Recalled?
Here's a bit of non-political news that still has the potential to scare you out of your minds: SodaStream has officially issued a recall for some of its bottles due to potentially dangerous explosions. While only a small fraction of the total number of bottles sold are being recalled, it's still important to know how to tell if your SodaStream bottle was recalled. According to CNN, the company is "recalling 51,000 of its carbonating bottles in the United States and 7,600 sold in Canada because of the risk that they could burst under pressure."
Update: In an email statement, a SodaStream spokesperson told Romper, "The safety of our customers is of the utmost importance to us, prompting us to issue, as a precaution, a voluntary recall for a specific batch of blue-tinted reusable bottles that could potentially break open when used to carbonate water. We have had no failures on these bottles to date but have initiated this voluntary recall as a precaution. This recall affects only a very small minority of the 13 million bottles we produced last year. We are proud of our commitment to outstanding safety and quality. SodaStream has become the most popular way to enjoy healthy sparkling water in an environmentally sustainable way. This recall involves 51,000 bottles sold in the U.S. and 7,600 sold in Canada. For more information on the recall please visit, www.sodastreamusa.com."
The company claims the recall is voluntary, as no explosions have been reported as of yet. However, due to a manufacturing issue, the company has decided to let consumers know about the possible safety issue, and issue full refunds for any products that are affected by the recall. In order to be completely sure that your SodaStream bottle is safe (or, maybe, not so safe), you can go to the SodaStream website and answer a few short questions that the company has compiled to help you understand if your product is one of the few impacted. While this may seem concerning, it's important to remember that the company produced over 13 million bottles last year, and less than 60,000 are possibly susceptible to explosion.
However, to completely ensure that you and your family are safe, you can answer these questions, provided by SodaStream, to understand if your products qualify for recall and refund:
Are all bottle(s) you are submitting 1 liter in size? Are all bottle(s) you are submitting tinted blue in color? Are the bottoms of all bottle(s) you are submitting blue in color? Does the back of all bottle(s) you are submitting say "dishwasher-safe"? Does the back of all bottle(s) you are submitting have an expiration date of 04/2020?
Romper has reached out to SodaStream for additional comment on the recall and is awaiting a response.
SodaStream manufacturers are headquartered in Israel, and, while it's unclear just how severe the possible explosions are, it isn't surprising that carbonated beverages and machines are potentially capable of blowing up.
The company is definitely being proactive with this situation, which is nice to see. By getting ahead of the problem and offering refunds, SodaStream is certainly staying ahead of the curve and staying out of more problematic territory.
So, check your bottles, and follow the instructions provided by the company. Nobody wants to get a bottle blown up in their face when they're just trying to enjoy some refreshing sparkling water, after all.