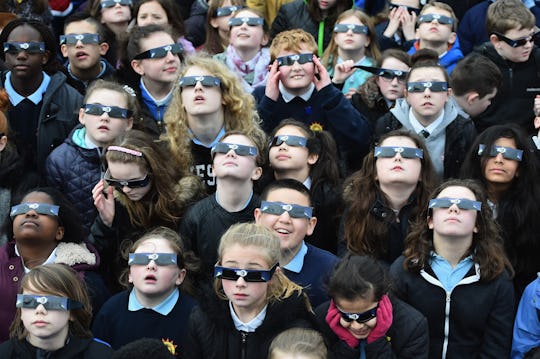 Jeff J Mitchell/Getty Images News/Getty Images
How To Tell If Your Solar Eclipse Glasses Are Fake
On Monday, Aug. 21, people's attentions will be turned toward the sky across the nation, if only for a brief moment. For the first time in more than 40 years, a solar eclipse will be visible from almost everywhere in the United States and it won't be something that people will want to stay inside for. But looking at the sky for a prolonged period of time involves wearing solar eclipse glasses for protection. But it is important to buy the correct eyewear and note how to tell if your solar eclipse glasses are fake so you stay as safe as possible.
Yes, there are fake solar eclipse glasses. And if you're at a viewing party and someone hands you a pair, you might want to question where they come from. Ahead of the eclipse on Aug. 21, experts are warning eclipse watchers about purchasing counterfeit glasses, or glasses not verified by the American Astronomical Society.
There are certain qualifications that solar eclipse glasses need to meet before they can be deemed safe for wear. These glasses must be verified by an accredited testing laboratory and meet the ISO 12312-2 international safety standard. However, there are some companies out there that are passing off glasses as safe when they're not. Rick Fienberg, a spokesman for the AAS told Fox Business:
I have personally seen counterfeit glasses from China that have the logo, name, and address of a U.S. manufacturer but were not produced by that manufacturer and are not known to be safe. They actually give a fine view of the sun, but I have no idea if they're blocking sufficient amounts of invisible ultraviolet and infrared radiation as required by the ISO 12312-2 international safety standard.
People can be easily misled by these counterfeits, especially when you're not an expert on solar eclipse glasses. But, according to Fox Business, there is one way to determine if your eclipse glasses are fake. When you put the correct solar eclipse glasses on, Fienberg told Fox Business, "You shouldn't be able to see anything except the sun itself." According to CNN Money, the AAS also advises that if you can see lights of ordinary brightness through the glasses or if you're unsure about where your glasses came from, don't wear them. At all.
Just how bad is it to wear counterfeit glasses? Really bad. Staring at the sun for any length of time can cause permanent damage to your eyes. Special glasses need to be worn at all times, according to the AAS — nothing but eclipse viewers are guaranteed to protect your eyes. But getting ahold of reputable solar eclipse glasses is easy. The AAS has a list of reputable websites and retail chains that guarantee you won't get a fake pair of viewing glasses. So if you've purchased your glasses from Walmart or Lowe's Hardware, you're in the clear.
With two weeks left until the solar eclipse appears it is best to be prepared and make sure that your glasses are the real deal before staring at the sun for hours on end.