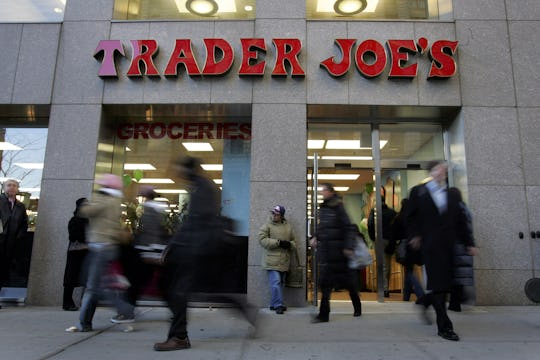 Michael Nagle/Getty Images News/Getty Images
Your Trader Joe's Granola May Have Been Recalled
The ideal breakfast is easy to prepare, tasty, and affordable — three criteria that Trader Joe's Grainless Granola fits to a T. But if you've stocked up on the crunchy product for your quick morning meal or kids' post-soccer practice snack, it's time to double check that your bag is safe to eat. That's because the grocery store chain pulled it from its shelves this week due to concerns that it could contain an illness-causing germ. So, you'll definitely want to know how to tell if your Trader Joe's granola was recalled in order to keep snacking with confidence that you and your family are safe from any possible negative health effects.
Trader Joe's announced the recall Wednesday after its supplier notified the chain that Listeria monocytogenes could be lurking in the Grainless Granola. Listeria monocytogenes is a germ that contaminates food and can cause Listeriosis, a sickness that can be dangerous for people with weakened immune systems like pregnant women, newborns, and the elderly, if they consume it, according to the Centers for Disease Control and Prevention. Luckily, there have been no reports of illnesses yet. But it's important for anyone who has purchased the product to make sure not to eat it in order to keep it that way.
Romper has reached out to Trader Joe's for further comment on the recall, and has not yet heard back.
The affected products have BEST BY date codes that fall between March 28, 2018 to April 10, 2018. They were sold in states all across the nation: Alabama, Arizona, California, Colorado, Connecticut, Washington, D.C., Delaware, Louisiana, Massachusetts, Maryland, Maine, New Hampshire, New Mexico, New Jersey, Nevada, New York, Oklahoma, Pennsylvania, Rhode Island, Texas, Utah, Virginia, and Vermont.
"If you purchased any of the Grainless Granola with the specified date codes, please do not eat it," Trader Joe's said in a press release, noting that all products still in stores at the time it was alerted to the problem have been destroyed. "We urge you to discard the product or return it to any Trader Joe's for a full refund."
According to The Mayo Clinic, healthy people typically don't get sick if they're infected with Listeria. It's more likely to hit those with weaker immune systems, such as pregnant women, who can then pass the illness on to their babies. Initial symptoms in adults include fever, muscle aches, nausea, and diarrhea. It's a good idea to see a doctor if you experience any of those symptoms, especially if you suspect you may have eaten contaminated food.
Trader Joe's is working to make sure that its Grainless Granola won't be the source of any illnesses. Hopefully, with a little vigilance, families everywhere can keep it that way.