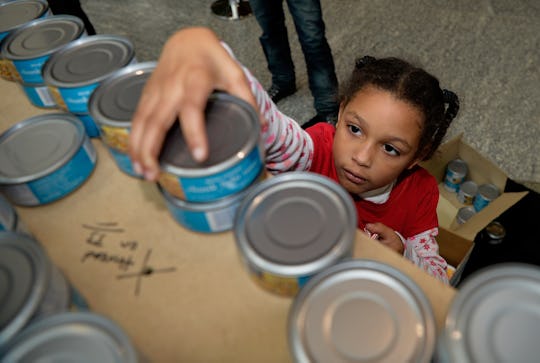 Grant Halverson/Getty Images Entertainment/Getty Images
How To Tell If Your Tuna Is Affected By The Bumble Bee Recall
Bumble Bee Foods is recalling 31,579 cases of their canned chunk light tuna after a malfunction in a third-party supplier's machinery, according to CNN. The malfunctioning machinery part has since been replaced and no illnesses have been reported yet, but Bumble Bee voluntarily recalled the product due to the risk of contamination by "spoilage organisms or pathogens," according to both the FDA and Bumble Bee. Here's how to tell if your tuna is affected by the Bumble Bee recall, and what to do if it is.
The recall affects several tuna products which were produced in February and distributed across the United States. To find out if your purchased can of tuna is affected, flip the can over and take a look at the code printed on the bottom. All the products affected had can codes starting with a "T," and 2019 "best by" dates, and one of three UPC codes (i.e., bar codes): 8660000020, 8660000021, or 8660000736. For a full list of affected can codes, consumers are advised to check against Bumble Bee's list, which is posted on their website.
"The recall is being initiated out of an abundance of caution due to the possible under-processing of the affected products discovered by the co-packer during its routine quality audit," read a statement on Bumble Bee's website. Romper has reached out to a Bumble Bee spokesperson for comment and is awaiting a response
If you have an affected can, throw it out — but make sure to hold onto the can's label in order to get a refund from Bumble Bee. To be reimbursed or to ask further questions regarding the recall, you can call the company's Consumer Affairs team at (888) 820-1947. Although no related illnesses have been reported so far, Bumble Bee warned in a statement that consuming the affected tuna could lead to life-threatening illness, so make sure you chuck any fish related to the recall.
Another canned tuna producer, Tri-Union Seafoods, is recalling 2,745 cases of its Chicken of the Sea tuna due to the same equipment malfunction. Both companies' batches of affected tuna originated from the same facility. "Bumble Bee recalled specific codes of canned Chunk Light Tuna produced in Chicken of the Sea's Georgia production facility, a third-party supplier for Bumble Bee," said Steve Mavity, senior vice president of Bumble Bee, according to CNN. Chicken of the Sea consumers can find affected cans' UPC codes and can codes on the FDA web page associated with the recall, and consumers can call (866) 600-2681 with any questions.
While recalls are always a bit scary, it seems that Bumble Bee managed to catch this incident before anything serious occurred — and for that, we can all be grateful.