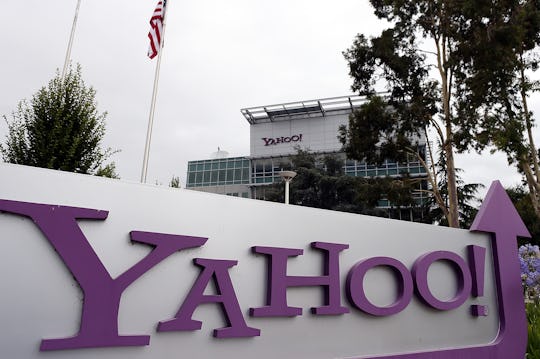 Justin Sullivan/Getty Images News/Getty Images
How To Tell If Your Yahoo Account Was Hacked & Your Information Was Stolen
Yahoo users might want to change their passwords following the latest digital break-in. On Wednesday night, Yahoo announced that hackers stole data from more than one billion accounts, according to The Associated Press, leaving users in panic mode and wondering how to tell if their Yahoo account was hacked. Verizon, which was in talks to buy the company's "core" business, according to The Wall Street Journal, has said it will reevaluate its acquisition plans as well.
What is at stake? According to Yahoo's Tumblr page, in August 2013 an "unauthorized third party" stole data from more than 1 billion accounts. The kind of information that hackers could have possibly stolen is information that people tend to keep private, behind the password-protected doors of their email account. Information such as names, email addresses, telephone numbers, dates of birth, hashed passwords, and, in some cases, security questions and their answers could have been stolen during the hack, according to Yahoo. But there is some good news — according to Yahoo, passwords in clear text, payment card data, or bank account information is not part of the hack's stolen information.
According to USA Today, Yahoo does not know who is behind the theft of this information and is currently working with law enforcement to investigate the breach.
Yahoo is currently notifying users who were "potentially" affected by the hack. However, there is no way to tell just what bits of information might have been taken during the hack. Yahoo email users can also learn more about the hack by reading Yahoo's press release.
There are a few more measures that users can take when using their email account to make sure that it is completely safe. Right now, Yahoo is notifying potentially affected users from the hack and are asking them to take necessary steps secure their accounts, such as changing their password. Yahoo recommends users visiting the Safety Center page to strengthen the security of their account. If you're sick of passwords and losing them, Yahoo also recommends ditching the password altogether and opting for Yahoo Account Key — an easier (and more secure) way to log in to Yahoo and get rid of your Yahoo password forever.
This hack is very large and understandably very scary for Yahoo users — especially because users were notified of another, separate hack in September where data associated with at least 500 million accounts was reported stolen just a few months ago. According to The Wall Street Journal, Yahoo believes that the incidents are "likely distinct."