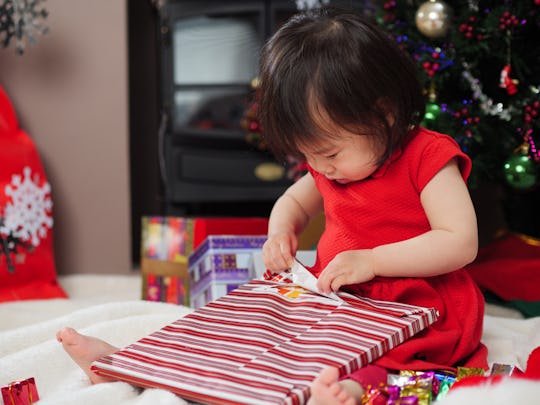 Mcimage/Shutterstock
How To *Carefully* Ask Your Friends & Family Not To Buy Your Kids Holiday Gifts
It's holiday shopping season again. In addition to causing people everywhere an undue amount of stress, we moms will also have have to deal with awkward conversations about presents for our kids. I don't know about you, but I would be seriously thrilled if my kids didn't get any toys this year. Considering that's not likely to happen though, I would definitely prefer they receive no slime, toys with small, removable parts, or crafting kits. My main problem is: I have no idea how to tell people not to buy your child a gift without sounding like the Grinch himself or breaking several age-old rules of etiquette.
It turns out, there might actually be no sure-fire way to politely relay gift-giving limits, restrictions, or preferences, without offending at least someone. If you are going to try, though, there are tips to make the process as painless as possible. First off, you should probably do it right now, to give gift givers plenty of time to adjust their holiday shopping plans. Amy McCready, author of The 'Me, Me, Me' Epidemic: A Step-by-Step Guide to Raising Capable, Grateful Kids in an Over-Entitled World told US News & World Report, it's important to be direct and clear about your expectations, as difficult as that is for some of us.
As Alyson Shafer, parenting expert and author wrote for HuffPost Canada, if people are set on buying presents for your kids, you might suggest an experience over a thing, or a donation to a charity that's meaningful to your kid. If it's too late, and someone has already gotten your kid the a present you dread, be gracious. Remember, you can always try again to reduce the number of gifts your kids get next year.
Many parents are trying to de-clutter and simplify their lives, but it can be seriously hard to do when you have kids and those kids expect some serious loot come Christmas morning. While giving a kid tons of presents might seem to make them happy in the moment, but in the long run, it might be actually be counterproductive. As McCready told US News & World Report, "When kids are surrounded by a stream of new toys, each one becomes less special."
To limit the number of gifts their kids receive this holiday, BBC reports that some parents are setting a four present rule for their kids, including something they want, something they need, something to wear, and something to read. While this might not be well-received by everyone who has your child on their holiday list, it may give them some present ideas you can live with.
Rather than banning gifts entirely, Rachel Jones, of nourishingminimalism.com recommended suggesting acceptable alternatives. Tired of toys? Ask for art or baking supplies that can be used up and out of your house in no time. Need something large for the whole family? Ask family and friends to go in on a large gift together.
If people can't resist buying your kids presents you don't want or have space for in your home, Jones recommended having them take it to their house. She writes, "If they want to give them larger toys (rocking horses, drum sets, train tables, etc), gently let them know that there is simply not enough room at your home, and it will need to stay at the grandparent's house and enjoyed there." Another fun and practical holiday gift idea Jones suggesed is having people give your kids' music or swimming lessons or museum memberships. Better yet, consider giving the priceless gift of time spent with your kids on a special outing with their grandma, auntie, or uncle.
Come Christmas morning, it's important to make peace with the fact that some people will totally not abide by your wishes. Be gracious and teach your kids to say, "thank you," no matter what, says McCready. Or, you can cut clutter by asking your kids to donate one toy to charity for each new toy they received.
If you fail this year, and your kids still get tons of toys, don't give up. Shafer added you can even start thing about next year, like now, right after gifts are given. She suggested saying something like, "I think next year I would like to do things differently. Can I ask you to help me with this by keeping the gifts to a minimum or give no gifts at all, until he appreciates what he is getting a bit more?"
If you want to send a clear message, you can always load up your car with donations and post a photo on social media, like blogger and mom Ruth Soukup did one year. Her snafu was awkward in the moment, but actually helped her realize the importance of being direct about holiday gift-giving. As she wrote for Living Well Spending Less, "we can say yes to the special without saying yes to the stuff. They don't have to go hand in hand."
This first-time mom wants to have a home birth, but is she ready? Watch how a doula supports a military mom who's determined to have a home birth in Episode One of Romper's Doula Diaries, Season Two, below. Visit Bustle Digital Group's YouTube page for the next three episodes, launching Mondays in December.