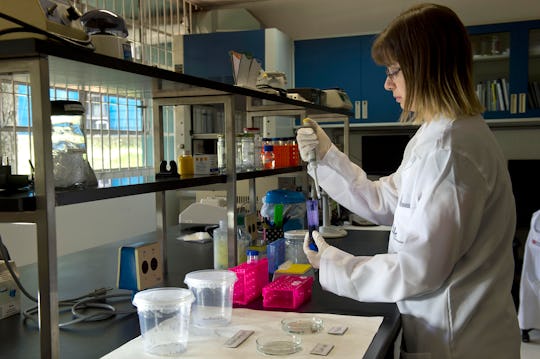 NELSON ALMEIDA/AFP/Getty Images
How To Test For Zika Virus? It's Not As Easy As You Think
Last week, the Centers for Disease Control and Prevention (CDC) issued an official warning for pregnant women traveling to countries affected by Zika virus. The virus, which is transmitted via infected mosquitoes, has been linked to microcephaly, a serious neurological disorder which causes infants to be born with unusually small heads and results in brain damage, serious developmental problems, and even death. But short of avoiding travel and staying indoors, what can individuals do to protect themselves from Zika virus? More importantly, how can one test for Zika virus?
Unfortunately, the news isn't great. While the World Health Organization (WHO) notes several methods can be used to diagnose Zika virus — such as viral nucleic acid detection, virus isolation, and serological testing — it is time sensitive (saliva/urine samples must collected 3 to 5 days after symptom onset and/or serum must be collected in the first 1 to 3 days) and requires the presence of symptoms. And according to Dr. William Schaffner, the chairman of preventive medicine at Vanderbilt University, more than 80 percent of those infected with Zika will never develop symptoms. (However, for those who do develop symptoms, it should be noted that Zika virus is characterized by a low grade fever, rash. muscle pain, joint pain, headache, pain behind the eyes, and conjunctivitis.)
So far, there are confirmed cases of Zika virus in 20 countries: Barbados, Bolivia, Brazil, Colombia, Ecuador, El Salvador, French Guiana, Guadeloupe, Guatemala, Guyana, Haiti, Honduras, Martinique, Mexico, Panama, Paraguay, Saint Martin, Suriname, Venezuela and the Commonwealth of Puerto Rico. There has also been one confirmed case in Hawaii, two confirmed cases in Illinois, and three confirmed cases of Zika in Florida, though in each case the virus was contracted while traveling abroad.
Dr. Denise Jamieson, a medical officer with the CDC division of reproductive medicine and an obstetrician, told CNN this week that since there was no vaccine or cure, prevention was most important. She explained,
Pregnant women should be advised that they may not want to travel to areas with ongoing transmission but if they [have to/]do, they should take measures to avoid mosquito bites [by using insect repellent, wearing long sleeves, and staying indoors whenever possible].
Dr. Laura Riley, director of obstetrics and gynecology infectious disease at Massachusetts General Hospital and chair of the American College of Obstetrics and Gynecology immunization expert working group, added,
The really tough thing here is for those who may have been infected nothing can be done. We're hunting and looking for something we can't do anything about. [But] here's no treatment and no prevention, other than just not getting bitten.
Images: NELSON ALMEIDA/AFP/Getty Images