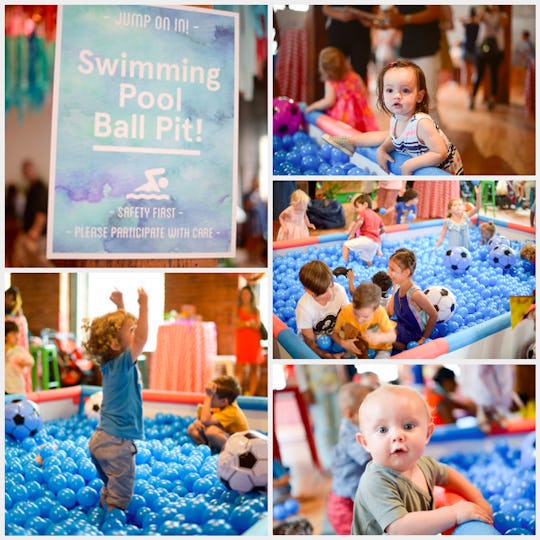 Mad Wolf Photography
How to Throw A Games-Themed Party For You and Your Friends
To a lot of people, summer is synonymous with activities like barbecuing, eating the freshest fruits and vegetables, watching fireworks and baseball, hanging out at the beach, taking pictures of beautiful sunsets, and maybe even traveling somewhere fun and new. But every four years, another item pops up on our summer to-do list, and it's "cheering for the elite athletes who represent Team USA in the Olympic Games." And even though we want to be right there in the stands, screaming our little hearts out in support of the talented and incredible members of Team USA, the trip might just not be in the cards. Luckily enough, another way we can show our love for the athletes is by throwing a theme party!
Theme parties are fun to plan because the hosts can really unleash their creative sides and experiment with the invitations, the decorations, the food, the drinks, and the activities. When all these elements come together, a good time is virtually guaranteed because guests can immerse themselves in the extra-festive surroundings.
Team USA has a few more weeks of training before the competition starts, and so to get Romper readers and millennial moms excited for the Olympic Games, Romper partnered with Smucker's® Uncrustables® to throw an Olympic Games-themed kids party in Brooklyn, New York. We've provided some snapshots from the event to give you a few ideas of what's possible if you decide to throw your own Olympic Games party!
1. Have A Swimming Pool Ball Pit
Little ones will have a blast making new friends as they practice their backstrokes in this ball pit. If you want to maximize the fun, include some inflatable balls so a pickup game of volleyball is possible!
2. Or Maybe Have an Archery Station, A Mini Golf Course, and a Balance Beam!
Kids love using their motor skills, and what better way for them to get physical than by setting up some mini golf and a balance beam. Just make sure there are adults to supervise nearby!
3. Give Everyone The Opportunity To Decorate Some Winning Medals!
Everyone's a winner, which means everyone deserves their own medal that they get to decorate themselves! All you need are ribbons, wooden (or cardboard) cutouts in various shapes, and craft supplies like paint and glitter.
4. And Don't Forget To Decorate A Flag, Either!
Keep the creative juices flowing by having kids decorate flags! Since the flags offer a bigger canvas, consider getting stars, circles, and letters made out of mini foam to really get kids excited. You can also continue using that paint and glitter that you used on the medals!
5. You Can Even Unleash Your Creativity On Some Tote Bags!
After the kids have collected all their medals and flags, they're gonna need some totes to put them in. So why not decorate those as well!
6. Make Sure To Have Lots Of Delicious Snacks At The Ready
All these activities and crafting are going to work up an appetite in your guests, so keep the party going by having some tasty and filling snacks.
This post is sponsored by Smucker's® Uncrustables® Sandwiches, proud sponsor of Team USA.
Images: Mad Wolfe Photography